Laney, Oliva pace Bobcats at Bonner Invitational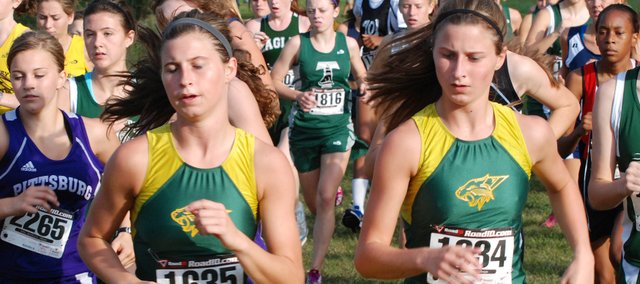 Ally Laney and Jonathan Oliva paced their respective Basehor-Linwood cross country teams on Saturday at the Bonner Springs Invitational.
Photo Gallery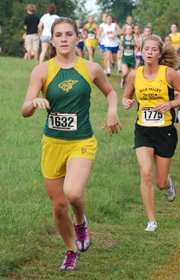 BLHS cross country at Bonner Springs Invitational
Both runners placed 11th in their races at Wyandotte County Park. Laney's performance led the BLHS girls to an 11th-place finish out of 14 teams while Oliva paced the Bobcat boys to an eighth-place finish out of 16 teams.
Laney's time of 16 minutes, 42.52 seconds in the four-kilometer race impressed her coach.
"She had the ninth-fastest time we have had," coach Jeff Venema said. "She ran competitively, though I think she can do better, too."
She was the only Basehor-Linwood runner to finish in the top 20 spots. Hannah Tush placed 45th with a time of 17:53.94. Haley Stallbaumer finished 56th with a time of 18:15.04. Sheridan Miles was 64th in18:26.19. Sara Rehm placed 86th with a time of 19:29.92.
In boys competition, Oliva finished the five-kilometer race in 17:49.21.
"It is the fourth fastest time of anyone in BLHS in the last 15 years," Venema said. "He competed hard and well, and he put himself in position as one of the high quality runners around here. It was an excellent day for Jonathan."
He was the only BLHS runner to finish in the top 40 spots. Rob Peterson placed 42nd with a time of 18:54.71. Mike Torrez placed 53rd in 19:23.20. Wyatt Kelly finished 64th in 19:44.80. Mark Vitt placed 68th with a time of 19:54.02. Michell Cook placed 69th in 19:59.02.
As a team, it was a bit of a disappointing showing for the Bobcats, who ran in the second of three meets in a six-day period — they were back in action Tuesday at the Tonganoxie Invitational.
"We certainly would have liked to have done better," Venema said. "It was not anything to shout about. The competition we faced on Saturday was very, very good. I don't think we competed very well."
He wants the runners to have the same expectations of winning and performing well no matter what size a meet is or who is in the field.
When the Bobcats ran in some smaller meets, Venema said, they expected to perform well, work hard and medal, but in a bigger meet they didn't quite have that same level of focus. He said his runners focused on hitting their pace rather than battling as much. In bigger meets, he wants them to meet the challenge and strive to finish in the top places of the race.
Turner Invitational
Basehor-Linwood also competed in the Turner Invitational on Thursday, Sept. 15.
Oliva finished 14th with a time of 18:44.6 to lead the Bobcats to a sixth-place finish as a team.
The Bobcats' other runners were Rob Peterson (19th, 18:58.8), Bryce Garver (35th, 19:50.6), Mike Torrez (36th, 19:51.9), Mark Vitt (42nd, 20:16 ), and Wyatt Kelly (43rd, 20:20).
In girls competition, Hannah Tush finished in 10th with a time of 18:37. Laney finished 12th in 18:45.7.
The runners led BLHS to a fifth-place finish.
In addition, Shelby Miles placed 24th in 20:09.8, Sheridan Miles took 25th in 20:12, Haley Stallbaumer was 28th in 20:30, Sara Rehm finished 40th in 22:04.4 and Sydney Weible was 41st in 22:15.