Pumpkin season to carry on despite weather woes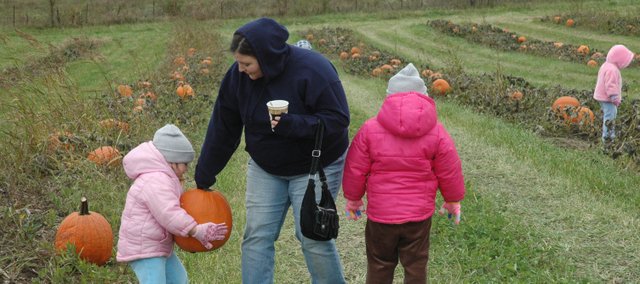 Area pumpkin growers are dealing with a tough season for the pumpkin crop as Mother Nature dealt the area a difficult hand of extreme heat and rain.
"The pumpkin crop around this area is going to be less than normal this year because of the weather pattern," said Brian Bierman, owner of Bierman's Pumpkin Patch, 2825 S. 63rd St., Kansas City, Kan.
Bierman said the excessive amount of rain at the beginning of the year followed by the extreme heat during the summer months caused the pumpkin crop this year to be less than ideal.
At his pumpkin patch, Bierman said he specializes in growing "all the weird stuff," such as white pumpkins, blue pumpkins and Hooligan pumpkins.
"I lost all my white and blue pumpkins," Bierman said of his crop. "I've got some baby Hooligan ones that survived though."
Also feeling the strain of the season is Jim Kerby, owner of Kerby Farm Pumpkin Patch, 15943 158th St., Bonner Springs. Kerby said his farm has yielded fewer pumpkins than usual as well, but he's also noticed a difference in the pumpkins' sizes.
"I think it was kind of cool and wet to begin with, then it turned really hot and dry," Kerby said. "That kind of threw (the pumpkins) into a shock. We're not expecting quite as large as pumpkins as we normally get, or as many."
Kerby said the last three to four seasons have actually been "trying times" for his farm's pumpkin crop.
Both local pumpkin growers, however, say they'll have plenty of pumpkins available for customers thanks to out-sourcing.
While Bierman said he had to go to his alternate pumpkin supplier because his primary supplier lost his crop due to the weather, he said his business is stocked with all the pumpkins people would need this year.
"It's been a weird growing pattern," Bierman said. "Some (pumpkins) are still growing and are not mature yet. It's been a really weird year. A lot (of pumpkins) will be coming in later."
Kerby is also confidant he will be ready for his customers this season.
"We absolutely will have plenty of pumpkins," Kerby said. "We're in the position to out-source if something doesn't go the way we planned. That's Mother Nature. We always have to have a backup plan. With the backup plan and with what we have, there should be plenty of pumpkins."
In addition to stocking pumpkins, both growers have been preparing the many family-friendly activities that will be available for children.
Bierman said his pumpkin patch experience would include hay rides, a petting zoo and gourd guns, which are air cannons that shoot gourds into the air.
"I think it's fun for families," Bierman said.
At Kerby Farm, Kerby said his goal was to give visiting children a glimpse of what farm living is all about. With play areas of slides, a haunted house, wagon rides, plenty of goofy photo ops and two corn mazes, Kerby said he just wants to give a family a safe environment to let loose for a day.
"I'm excited for another season," Kerby said. "It's always exciting to see it come. I honestly think it's a real joy to see small kids that maybe haven't experienced anything out on the farm."
Both pumpkin patches will be open for business Saturday, Oct. 2 through Oct. 31.
Kerby Farm will be open from 10 a.m. to 6 p.m. Saturdays and noon to 6 p.m. Sundays. For more information, go to kerbypumpkinpatch.com or call (913) 441-1766.
Bierman's Pumpkin Patch will be open from 11 a.m. to 5:30 p.m. Saturdays and Sundays. For more information, call (913) 375-1317.