State alters high school journalism funding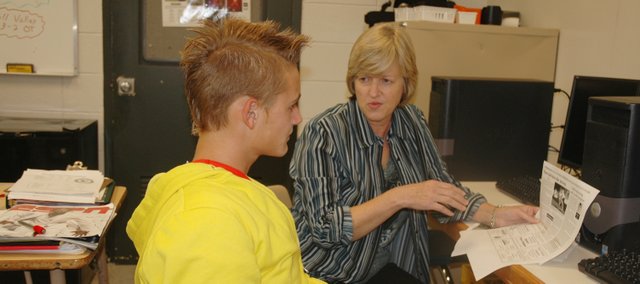 Journalism isn't important anymore.
At least, that's the outcry from Kansas public school officials reacting to a recent announcement the Kansas Department of Education will eliminate funding for high school journalism courses.
"I absolutely think it shows that we're devaluing journalism in the state … I think it will have a negative impact on the quality of work students can do and the opportunities for students," said Jill Holder, journalism teacher at Bonner Springs High School, of the funding cut expected to go into effect in the 2012-2013 school year. The money, she says, goes to pay for "cutting edge equipment," such as cameras and software, the district might not be able to pay for otherwise.
Kathy Toelkes, director of communications with KSDE, said the funding cut isn't being made because the department no longer sees journalism as a viable course of study. But with KSDE making changes to how it will distribute funding under the Carl Perkins Career and Technical Education Act, she says public schools may need to make some adjustments as well.
In the past, the act has provided supplemental funding for specific vocational education programs. Toelkes said KSDE is now in the process of moving from that previous model to one that asks those same programs now meet a broader range of criteria to receive the same funding. Journalism is among those programs, she says, that to receive state funding must be expanded to hit a wider range of possible educational areas a student might wish to pursue.
"It's not that journalism is devalued. Certainly we still see the value of the skills and competencies that go along with the journalism courses," Toelkes said. "… it's about broadening the skills and the competencies (within that course) that (give) kids more options as they move into postsecondary (education)."
Toelkes said the state provides about $30.6 million in vocational funding every year, with high school journalism courses seeing about $700,000 of that share.
Holder said losing that funding would definitely have an impact on her ability to teach the courses effectively. In addition to the equipment the funding provides, Holder is also able to receive regular, ongoing training that she is then able to impart to her students.
Holder has, as she said, "been around newspapers all my life." Her father, Clausie Smith, wasn't always the Mayor of Bonner Springs, but formerly owned two newspapers, including The Chieftain. She says she disagrees with KSDE's stance that journalism as a field of study doesn't already target a wide range of careers.
"People who can tell a story, who can write well, who can meet deadlines, I think transfers to many, many careers," Holder said. "I think that while newspapers may be suffering, we still need storytellers, we still need people to report unbiased information, to ask questions. I think I can't disagree enough (with eliminating the funding)."
Those who will suffer the most, Holder says, will certainly be her students. A total of 34 students at BSHS take part in newspaper and yearbook classes, with several of them interested in pursuing some area of the field later in life.
Take senior Victoria Porter, for example, who is photo and student life editor of the yearbook and wants to pursue graphic design and photography in college.
"Well, it's how I discovered (photography) pretty much," Porter said of taking part in yearbook courses. "I didn't know how passionate you can be about photography (before). (With the funding loss, schools) would lose a lot of talent, because if you never experience it in high school, than you won't understand what's out there to do in the future."
Senior Zachary Reed, academics and organizations editor for the yearbook, agreed. He said being involved in yearbook opened doors for him to pathways he may not have otherwise explored.
"I think it would probably be a bad idea (to cut the funding) because even … just being in yearbook, it showed me different creative aspects and different things you can do, and it just opened my eyes to different things like photography, just like creating like graphic design," Reed said. "(Graphic design is) something I'm interested in now after taking yearbook, especially because we create our pages from scratch."
While quality may be diminished as a result of the funding cut, Holder said she was positive journalism courses would still survive at BSHS. She said the district would see to that.
"This district has been incredibly supportive of journalism in my 24 years (of teaching at BSHS)," Holder said. "I know they'd find a way to support us. I'm confident that they would."