Bobcats have to battle for 3-2 soccer 'W'
1-win Chieftains make things difficult for
BLHS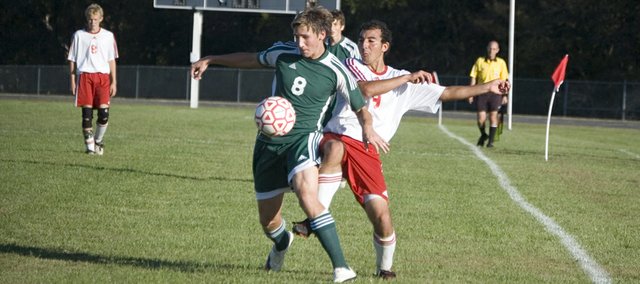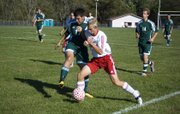 Photo Gallery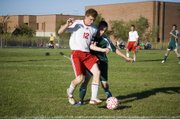 THS soccer falls, 3-2, to Bobcats
The Tonganoxie High boys soccer team lost a close one on Wednesday to rival Basehor-Linwood. A late second-half goal gave the Bobcats a 3-2 win.
A cliché showed up on the soccer pitch at Tonganoxie High on Wednesday afternoon.
That old line about throwing out the records when rivals meet proved completely true in a Kaw Valley League clash between Basehor-Linwood and THS.
Though the Bobcats came in with just one loss and the Chieftains had only one win, an observer oblivious to the rivals couldn't have told which team was which in between the lines.
Ultimately, the better team, Basehor-Linwood, pulled off a 3-2 victory. But it took a late second-half goal from Lance Young to avoid an upset.
In the 66th minute, Basehor's Patrick Rutherford dribbled toward the left corner and played a perfect cross into the box, where Young leapt to head in the deciding goal.
Tonganoxie (1-6) was happy to have such a tight match, considering the squad was without captain Matt Briggs and starting goalkeeper Keaton Truesdell, both on the sideline sporting crutches for their respective foot injuries.
The Chieftains' play against BLHS (6-1) marveled THS coach Brian Kroll, who was befuddled in explaining where exactly the effort came from.
"I don't really know," he said with a laugh.
It helped that his team got a big surge early in the second half. Down 2-0 at halftime, Tonganoxie got on the board less than a minute removed from the break.
Tyler Bartholomew made a pass from the right side into the middle and when the ball was sent out to the left side, Evan Stilgenbauer was there to send it into the back of the net and put his team within one.
Just more than two minutes later, the Chieftains tied things up with a header from Evan Lott, who lofted the ball up and over BLHS goalkeeper Russell Clark before it bounced in for the tying score.
Kroll let his players know during the break that it wouldn't take much for them to make things interesting.
"I told them at halftime that 2-0 is the most dangerous score you can have," he said, "because if the team that is down comes out and scores one, the momentum completely shifts and that's exactly what happened."
The Bobcats' first-half goals, though, gave them enough cushion to leave their rival's field with a win.
The first score came in the 13th minute, with Marcas Box attacking. When THS goalkeeper Cody Martin came out to try and stop him, Box quickly sent the ball to his left to set up Trey Kincheloe for an easy goal.
Just under three minutes later, Rutherford gave the Bobcats a 2-0 lead with a goal.