COMMENTARY

: Kansas' public schools deserve state, local support
A recent commentary from incumbent State Rep. Owen Donohoe attempts to lead our community to believe that public education in Kansas is failing and heading for a further downturn. As a lifelong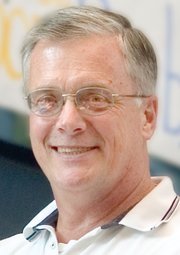 educator who has devoted 35 years of my life to public schools, this is a subject of which I have a bit of expertise. I would like to take this opportunity to educate Rep. Donohoe with the facts.
Kansas students rank in the top 10 in performance in the country, despite the fact that legislators like Donohoe voted to cut public school funding by $86 million last year. Student reading proficiency is up 26.5 percent and math up 32.5 percent over the past 10 years. According to a study by the Kansas Association of School Boards, Kansas ranks seventh nationally on six critical education measures according to the National Assessment of Educational Progress. Kansas ranks third in academic achievement for low income and minority students. Kansas also ranks eighth overall in return on its educational investment. Our success reflects the commitment and involvement of parents, students, teachers, and communities, not the commitment of our state representative, who holds one of the most anti-public education voting records in the Kansas Legislature.
Rep. Donohoe's version of local control is higher property taxes. When Donohoe preaches about "local control,"what he really means is "passing the buck." In 2010, Donohoe was instrumental in the development of a budget that shifted more of the burden of public school funding back to the local community. His plan permanently raised property taxes by $65 million, which included a 2.73 mill rate increase for the De Soto School District and a 2.92 mill rate increase for the Bonner Springs School District. Haven't homeowners been taxed enough? When will Donohoe quit passing the buck onto responsible homeowners who have watched their property taxes increase an average of 80 percent over the last 10 years?
Public schools are being held accountable. Transparency, accountability, and achievement are core tools of the ongoing continuous improvement model in Kansas. Every school in Kansas has an annual "report card" as well as important demographic and staff information published and available to all patrons annually. This incredible amount of information holds all public schools accountable for their achievement each year. To view your school's performance as well as a good deal of other important information click on http://svapp15586.ksde.org/ k12/k12. aspx.
Rep. Donohoe needs to learn that Kansas public schools are not the enemy. Public education is the cornerstone of any great community, it is not a frivolous waste of taxpayer dollars. However, public schools cannot succeed unless they are provided the support they need at both the local and state levels. Rep Donohoe has spent a great deal of time attempting to scare voters with ominous terms like bureaucratic, pressure, expensive and forced standardization, but he has no background in the field and no facts to support his claims. He is simply anti-education. Our community desperately needs a stronger voice for public schools in the Statehouse. Elect someone who is interested in real solutions and real results rather than empty rhetoric. Our children deserve better.
— Joe Novak retired earlier this year as principal at Mill Valley High School and is running as the Democratic nominee for the 39th House District, which includes western Shawnee, Bonner Springs and Basehor.