Empty pool a sad sight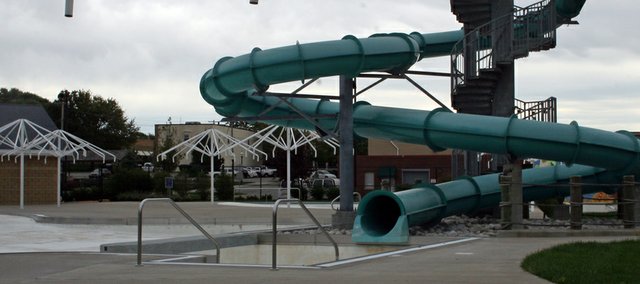 It is one of life's ironies that places that are supposed to be the very locus of happiness can have the opposite effect if conditions aren't just right. If you've ever wandered onto a deserted playground or ventured into an empty theater you probably know what I mean.
The other day I happened to be afoot in downtown Shawnee and chance took me past the city's new swimming pool, the Splash Cove, closed now that the children have all put away their carefree, summertime pursuits and returned to school.
I moved onto the mulched surround so that I could get right up to the fence to get a better look. (I know I was trespassing, sort of; in my defense, I was careful not to trample the flowers.) It had been a sunny day, but lowering clouds now gave the place a dark and somber aspect. The wind whistled through the empty water slides, and the frames of the umbrellas reminded me of the outstretched legs of the giant mutant tarantula in Jack Arnold's 1955 science-fiction horror film of the same name.
Despite the bright and gay colors of the poolside decorations, I was struck by how somber and gloomy a place it seemed to be with no happy, shrieking children there to give it life and purpose. It was downright spooky.
After a few minutes of these disquieting reflections, I shook off the mood and went on about my business. I am nothing if not resilient.
Later, I had the thought that we ought to find some way to make better use of these places. After all, we build them at great expense (almost $4.7 million in this case), then they sit vacant for nine months of the year. I am absolutely bereft of ideas, but it seems somehow wasteful, almost profligate.
Please don't send me any irate letters. I am not for a moment suggesting that we stop building swimming pools. Something that gives as much joy to children as a swimming pool is probably at least as worthwhile a use of our money as repaving our streets or building a new fire station. And channeling all that youthful energy into the swimming pool probably forestalls any number of other problems.
It's just that the places seem so sad when the kids have all gone. I just want to bring back the sounds of happiness.