BLHS

classmates seek homecoming float victory — again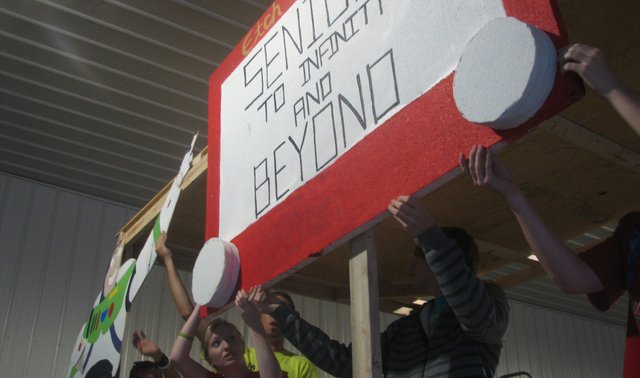 Caitlyn Clark and Owen Lewis, Basehor-Linwood High School seniors, can see the younger classes gunning for them.
Their class has won the Best Class Float award at the Basehor-Linwood Homecoming parade for the last two years, and Clark and Lewis said they feel more competitive pressure than ever this year from the other classes.
If they don't take home a third title this year, it won't be for lack of effort.
"I just want to go out with a bang, you know?" Clark said.
By the time the parade starts at 5:30 p.m. Friday, Clark, Lewis and about 10 other seniors will have spent nearly every free moment for a week working on their class float. If they weren't at football or volleyball practice, rehearsing for the school musical, or working, they were probably here, in a garage on the property of Steve and Darla Miles, where their float waits until its Friday unveiling.
"They kind of want to de-crown us, in a sense," Lewis said of the other classes.
Of course, they don't spend all their time here slaving away. Clark and Lewis said that largely the same group of students has worked on this class's float every year, and this is an excuse for them to hang out outside of school.
"I think it brings our class together more," Clark said. "We have a lot of fun doing it."
She said the float comes together as the result of a lot of different talents: Macyn Sanders does artwork, and Spencer Scherer and Ryan O'Neill do much of the construction.
And they've gotten help in the form of donations from a number of businesses – cardboard from The Record, 14690 Parallel in Basehor, and wood from Vesta Lee Lumber in Bonner Springs, among others. And the Miles family has let them use their property to build their float every year.
The parade isn't just about the school, Clark said.
"We have, like, the whole town in the parade," she said.
Before they got ready to start working Tuesday night, Lewis said the seniors would probably keep going right until start time Friday. In keeping with Homecoming's "Wonderful World of Disney" theme, the senior float will feature characters from the "Toy Story" movies. But the seniors didn't want to give away too much detail about their plans.
"Thursday night, we'll probably stay up really late and just do a lot of last-minute things that don't take a lot of time but make a big, grand effect," he said.
The schedule and details for all the Homecoming events are as follows, according to the school district:
The action starts with a bonfire at 8:15 p.m. today behind the high school. The public is invited to attend the bonfire.
The parade begins at 5:30 p.m. Friday. It will run on 155th Street, between Leavenworth Road and Parallel. Participants should meet at 5 p.m. Floats should assemble in the west parking lot of Holy Angels Catholic Church, 15410 Leavenworth Rd., and the district asks participants not to block the east parking lot entrance. Walking units, decorated vehicles and bicycles should meet at the former Sixth Grade Center building at 155th and Leavenworth Road.
Parking will be available in the field between the former Sixth Grade Center and Basehor Elementary School for parents dropping off parade participants. The following streets will be blocked off during the parade: 153rd Terrace, 156th Street off Leavenworth Road, Poplar at 155th Street and Parallel at 155th.
Motorcycles and dirt bikes are not allowed to enter the parade. Parade winners will be announced at the football game and posted on the marquee in front of the high school. Entries must be registered before Friday to be eligible for cash prizes. To register, call the BLHS office at (913) 724-2266.
The Homecoming football game against Turner starts at 7 p.m. Friday. Homecoming candidates, princes and princesses will be introduced at halftime, followed by the crowning of the king and queen.
During the parade and the football game, the BLHS Booster Club will offer a picnic-style "Meal Deal Dinner" for $5 that will include chips, bottled water and a choice of a pulled-pork sandwich, hamburger, cheeseburger or hot dog. The meals will be available east of the main football gate. The Booster Club supports athletics, academics and fine arts at BLHS.
The "Wonderful World of Disney" Homecoming dance will begin at 7 p.m. Saturday and end at 10 p.m., concluding the festivities.