BLMS

student picked for 'tween' magazine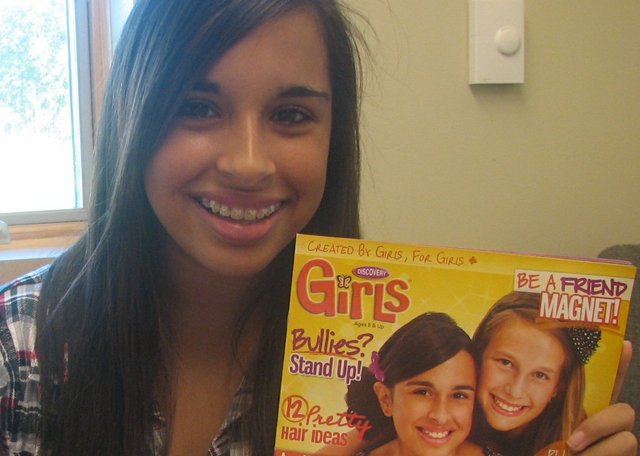 Jenna Espinoza's mother just didn't want her to get her hopes up too high.
She'd applied twice before to be featured in nationally circulating magazines and hadn't heard back. But this time, she said, the magazine was coming to Kansas and was going to pick 12 girls to feature.
"She wouldn't let me do it at first, but I bugged her long enough, and she finally let me do it," Jenna said, as her mother, Stephanie Espinoza, laughed across the room. "The whole time, she was telling me, 'You're not going to get in, so don't worry about it.'"
But that's Jenna's face smiling on the cover of this month's issue of Discovery Girls, a magazine for "tween" girls between 8 and 12 years old, based in California. The magazine's editors travel to a different state for each issue, selecting 12 girls to be photographed and to produce content for the issue. It has a readership of more than 800,000 nationwide.
Jenna, now in eighth grade at Basehor-Linwood Middle School, was a sixth-grader when she found out the magazine would be coming to Kansas in the summer of 2009. Stephanie had helped Jenna with earlier magazine entries, but she told her daughter she'd be on her own if she wanted to go for it this time.
So Jenna handed her father a tattered envelope to put in the mail, filled with an essay and photographs of herself.
"No one cared, this third time around," Jenna said, laughing.
Jenna's twin sister, Jill, said she'd taken a photo of the shock on Jenna's face after she found out she would be one of the 12 Kansas Discovery Girls picked out of more than 1,000 entrants.
"There was, like, no expression on her face when she found out," Jill said.
This month brought another surprise when Jenna discovered that her photo had been picked for the cover. She'd had to wait more than a year since the two-day photo shoot in June 2009, as the magazine gathers its Discovery Girls well in advance of publication.
Jenna said the girls' grandmother had given the family a subscription to the magazine when the twins were in fifth grade. Jenna said she enjoyed the magazine's tips on fashion and skin care, while her mother said she appreciated its practical advice on issues like text-messaging and social networking.
Stephanie said it was the kind of thing she'd like her daughters to read.
"They keep it very relevant," Stephanie said. "They're not trying to make the girls older than what they are."
In the magazine, Jenna is part of a Halloween-themed photo spread in which she's dressed as a bag of jelly beans, and she also gives advice on sharing clothes, a familiar issue in a household with four daughters ranging from a high-school junior to a fifth-grader.
At school, Jenna plays volleyball and basketball and was recently elected to the student council. Stephanie said Jenna tends to aim high in everything she does.
"That's why I didn't want her to enter," Stephanie said. "She's such a dreamer and has such high aspirations. I don't want to see her disappointed, but so far that's not happened."