Bobcats play tough at tourney
Basehor-Linwood earns third place at Louisburg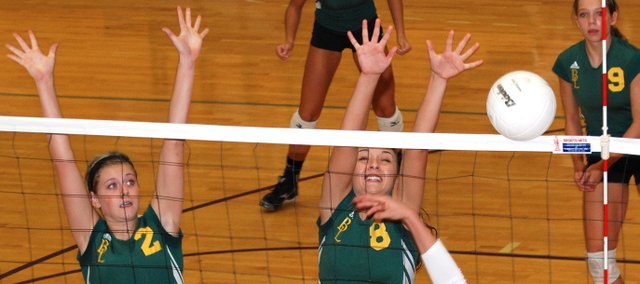 Louisburg — The Basehor-Linwood volleyball team went a week and a half without competing, and the result was a slow start Saturday morning at the Louisburg Tournament.
Photo Gallery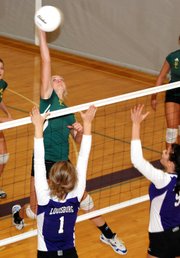 BLHS volleyball takes 3rd at Louisburg
Once the Bobcats warmed up, however, they made their presence felt. They posted a 3-2 record and came home with a third-place plaque to show for their efforts.
"We started out this morning so slow," BLHS coach Tammy Zydlo said, "and I was so concerned that we wouldn't be (in the winner's bracket). Just looking at the bracket, I was thinking that we should be here if everything goes our way.
"We changed up some things on offense and defense this past week, but we had plenty of time to prepare for it. I don't know what the deal was (with the slow start), but what a perfect way to end the day. We ended with a win and we took third place. Certainly we would've loved to have had first, but I'm still really proud of the girls because they did hold strong and they persevered."
The Bobcats' slow start nearly proved costly as they struggled past Anderson County in the first match of the morning, 25-19, 20-25, 27-25. A loss could have sent BLHS into the consolation bracket.
Up next was a 25-8, 26-24 loss to eventual tournament champion Blue Valley North, and then the Bobcats closed out pool play with a 25-11, 25-14 rout of Prairie View.
The 2-1 record in pool play propelled BLHS into the championship semifinals against Louisburg.
The Bobcats scored the first two points of game one against Louisburg, but they soon fell behind 11-6. Two Wildcat hitting errors and a solo block by Kara McCarty pulled BLHS within 11-9, but an 11-2 run helped Louisburg take control as it cruised to a 25-15 victory.
The Wildcats pounced early in game two as they opened on a 12-2 run. The Bobcats never quite gained traction and lost, 25-13.
Basehor-Linwood met up with Fort Scott in the third-place match, but the struggles continued early in game one. The Tigers opened on a 6-3 run before the Bobcats came to life.
Suddenly, it was all Basehor-Linwood.
Shelby Equels fired back-to-back aces, Courtney Poe pounded a kill, McCarty put down a kill and later teamed with Macyn Sanders for a block. A handful of foot faults and hitting errors by the Tigers during that span helped BLHS make a 10-2 run and take control of the match. The Bobcats went on to win, 25-19.
Game two began as a back-and-forth battle as the teams traded points and made multiple foot faults and hitting errors. Neither squad led by more than one point until the Tigers took an 11-9 lead.
Again, the Bobcats clicked. A few minutes later the match was over.
BLHS rode Brandi Stahl's serve for a 9-0 run and bolted to an 18-11 lead. Stahl fired two aces during that span, while Samantha Rutherford and Sydne Eriksen both had kills and teamed up for a block during the run.
"We just got in the game more," McCarty said of the Bobcats' sudden turnaround. "Maybe it was just wanting to win."
Fort Scott eventually recovered, but it was too late. The damage had been done. BLHS cruised to a 25-17 victory and captured the third-place plaque.
Zydlo said she was proud of her team for taking control of the match and finishing the job.
"They kind of seized the moment," she said. "We've been talking a lot about our serving. We are a very good serving team, and that was the difference in some of our matches. We decided we were going to serve tough, and once we served tough we took some of the teams — and (Fort Scott) as well — out of their offense a bit. That was big."
Zydlo credited her team's scrappy defense with making a difference, too.
"I thought our defense was outstanding," she said. "Even when they were slamming the ball down, we were digging it. I always feel like when you win those long rallies you are going to win the game because you are able to keep that momentum."
Basehor-Linwood improved to 9-11 overall.