School board candidates discuss budget, class sizes at library event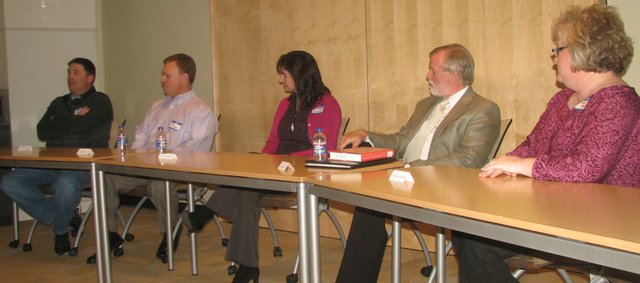 Five candidates for the Basehor-Linwood school board appeared at an informal "Meet the Candidate" night at Basehor Community Library on Wednesday, sounding off on budget cuts, class sizes and other issues during a discussion.
All three candidates for the board's at-large seat appeared at the event: Jim Peters, Jeff Tindell and Lori Van Fleet. Also there were Position 1 candidate Larry Harms and Position 2 candidate Dayna Miller, an incumbent who is running unopposed. Position 3 candidate Eric Dove, also an unopposed incumbent, did not appear, and incumbent Position 1 candidate Jeané Redmond was unable to attend.
Local elections will take place Tuesday. Polls will be open from 7 a.m. to 7 p.m. For more on the candidates, take a look at the Sentinel's 2011 local election voter's guide page.
Below are excerpts from the candidates' comments during the discussion:
On managing the district's budget as state funding declines:
Miller: "We have been dealing with budget cuts. The process by which we go now is that we look at everything. We look at where money is spent. We do it as a team, with the school board, the superintendent, the principals … It's a very difficult process. It's very difficult. Working with a team is the only way you can do it."
Peters: "I couldn't draw a stick man, but I'm not in favor of dropping art, because I think it's important for kids to be exposed to these arts … From what I've seen in Europe, everybody plays an instrument. I mean, it's just part of their life. Every kid takes music. … That's part of a culture, and it's very important for a young person to grow up and have some sort of identifiable culture. … When you start cutting, you wait a minute. You really have to sit back and think about that."
Van Fleet: "I'm always aware of the fact that, you know, we're also spending the taxpayers' money … In my mind, we have to consider the community and their perception of what we're spending money on, because obviously, in reality, it's their money that we're spending. Of course, we're going it to educate the children, which is very important. But you have to take all that into consideration."
Tindell: "You pull as many resources as you can together to find different ways to be creative … Your friends at Spring Hill have this amazing virtual school online that's open to everybody in the state of Kansas that doesn't have a high school diploma. Well, they get funding for every person that enrolls for a class … We've got a brand new building sitting right by the football field that was, I believe, grant money from the federal government. ... That's a pretty creative way to enhance the school district. … The other thing is, we've got to try and get the people of our community more involved in the politics of this, because the people that are making the decisions on how much money that we get or how these cuts happen, need to hear from everyone."
Harms: "I just think this school district's at a great point right now as far as facilities. It has great staff. It's a great educational environment for the students. I don't want to see us take any backward steps. I don't want to lose any programs. I just think we need to be creative and very efficient with every decision that affects that budget coming up."
On setting limits on class sizes, and the possibility of increasing class sizes as a budgetary measure:
Miller: "As a parent, I would rather see smaller class sizes. But also, reality is that we may have to look at that in this district as we move forward with the cuts that are coming up. … We've done a very good job to this point not cutting programs, keeping the financial issues that we have out of the classrooms as best we can. … We have even gone to the point of turning off lights when we walk out of the door and talked about having a monitor, someone to go through and make sure the lights are turned off and that we're saving energy."
Van Fleet: "Sometimes it depends on the child in reference to what environment that they can work in. … When you get to, potentially, the high school, you might be able to do a few creative things with class sizes. … Kids in high school are going to have to transition to a larger college classes. … There are some children that are very self-motivated, so if you can kind of tap into that in reference to class size, that might be something to be considered."
Tindell: "If one of my daughters is in a class where there's 30 kids, then I've got more responsibility with her education than I do if she's in a class with eight kids. … We need to figure out how to get parents more involved in that process. … I'd fill classrooms up before we cut any of those other programs. … Reading, writing and arithmetic are what everybody harps on. That's what our friends at the state say we must test on, but that's not what makes a person a well-rounded person. It's the arts, it's the health education, it's all the other things that go on in school."
Harms: "I don't think you can say you can't increase class sizes until you just run out of room."
Peters: "Elementary kids — anybody who's been in education will say those have to be the smallest classes. … I've seen 60 kids in math classes in several countries. That's an awful lot. It's a number that is staggering here. But all 60 of them were doing geometry in ink. … I've seen where it works. I'm not saying at all it would work here. But larger classes are not the end of the world. If you manage them properly, they can be just as effective as a smaller class."