Nelson exhibit brings 'Water Lilies' together, as Monet intended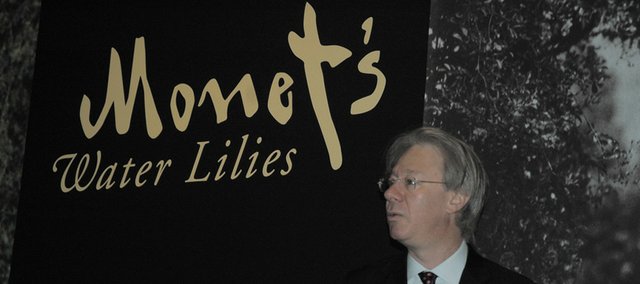 With its upcoming exhibit "Monet's Water Lilies," the Nelson-Atkins Museum of Art is trying to come as close as possible to the experience one might have if they were watching famed impressionist, Claude Monet, at work in his garden in Giverny, France.
On display
"Monet's Water Lilies" will be on display April 9 to Aug. 7. Though admission to the museum is free, tickets must be purchased for this featured exhibition. Tickets are $8 for adults, $7 for seniors 55 and older, $5 for students 13-19 and free for children 12 and under. Tickets can be purchased at the exhibit or online at nelson-atkins.org.
The Nelson-Atkins Museum of Art is at 4525 Oak St., Kansas City, Mo.
In fact, more than 80 years after the artist's death, viewers will have the opportunity to do just that through the exhibit's inclusion of rare, 1915 film footage taken of Monet — dressed in a pristine white suit and with a cigarette lackadaisically hanging out of his mouth — painting in his garden those works that would, years later, delight and inspire the world.
The main attraction of the exhibit, of course, is the "Water Lilies (Agapanthus)" triptych, made up of three, six-foot tall panels Monet is believed to have worked on from 1915 to 1926, the year he died. The work depicts Monet's own water lily pond in Giverny.
During a media review of the exhibit Friday morning, curator Nicole Myers said the three panels had never been displayed together as Monet had envisioned them, but the "Water Lilies" triptych had its first showing in 1978 at the Metropolitan Museum of Art in New York City, and then again in 1979 and 1980 in both Kansas City and St. Louis. Since then, the panels have remained separate in the three museums that purchased them in the 1950s after a three-decades-long period during which they were left to collect dust in Monet's studio in Giverny. The left panel was purchased by the Cleveland Museum of Art, the central panel by the Saint Louis Art Museum and the right panel by the Nelson-Atkins in Kansas City, Mo.
"So for a new generation, this is really a first time to get a chance to see these paintings come together," Myers said.
But that's not to say that those who did get a chance to see the reunion of the three panels more than 30 years ago won't get something "completely different" out of this latest exhibit, Myers said. "Monet's Water Lilies" marks the first time the pieces have been hung together as one 42-foot-wide, continuous work of art, instead of as a series of separate panels. This is how Monet would have wanted it, Ian Kennedy, Nelson-Atkins curator, said in a press release regarding the exhibit.
"What this show does is it puts (the Nelson-Atkins' 'Water Lilies' panel) in context," he said. "This will be a much more intimate experience of Monet, without distractions, and you get to see the paintings as he intended them to be seen — not separated and surrounded by other pictures."
Another first is the extensive research and analysis done on the works, all on display in a room of the exhibit, which viewers will have the opportunity to both see and interact with. The idea behind showing the conservation component of "Monet's Water Lilies," Myers said, was to demonstrate that Monet, while generally thought of as someone who worked spontaneously and without a lot of revision, was actually much more methodical and even "obsessive," as she said, when it came to his water lily depictions. X-rays, cross sections of paint fragments and early studies show the many times Monet painted over his "Water Lilies" before they reached their current state.
"The exhibition will explore the whole issue of process, really giving us a sense of how Monet worked; how he built up his paint layers," said Simon Kelly, curator with the Saint Louis Art Museum.
In the same room will be interactive computer touch screens, which will allow viewers to look at details of Monet's works and microscopic pigment images, and also create their own impressionistic works of art. Users will have the option of emailing their creations to themselves, and all of the creations will be uploaded to a gallery on the Nelson-Atkins' website, nelson-atkins.org. The hope is that even younger audiences, who may not have an initial appreciation for the "Father of Impressionism," as Monet is widely known, will take away a better understanding of his legacy through these technological components to the exhibit.

"The last room in the exhibition is really an amazing technological advance in terms of what we're doing here in the exhibition by putting this kind of focus, this spotlight, on the research and work that we've done, but putting it in a very modern way that makes it hopefully appealing and also engaging for visitors of all ages that come," Myers said.
Above all, she said, the goal is to give viewers the experience Monet ultimately wanted all of those who saw his work to have: "He wanted the visitor to be surrounded by, and I quote, 'a flowered aquarium.'"