Great blue herons take up residency in central Shawnee
Extra-large carnivorous birds pesky for some, 'magnificent' to others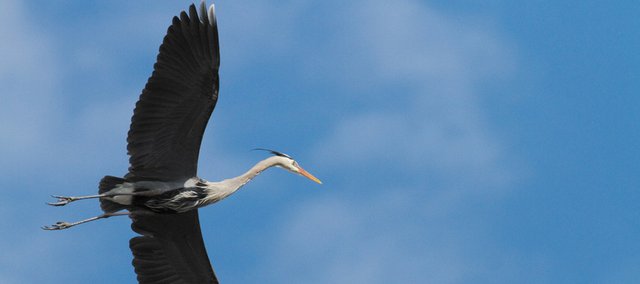 In years of walking Mill Creek Streamway Park, Ascension Hernandez has seen the occasional great blue heron — water lapping at lanky legs, rope-like neck forming a graceful 'S.'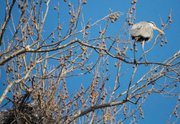 But what the Shawnee resident saw a few weeks ago, on one of his first walks of this season, amazed him: In the highest branches of a towering white-barked sycamore tree, not one but five or more great blue herons and at least 10 hulking nests.
Some birds perched on branches, others in nests. From time to time, one circled the tree or took off in flight across a nearby field.
"It's a beautiful sight to behold," Hernandez said of the rookery, an unusual occurrence in a populated area.
Despite being one of the largest native birds in North America, the great blue heron has managed, in some cases, to live among humans. While the carnivorous birds are pests for residents trying to maintain fishponds, natural terrain-rich suburbs provide space for them to hunt and — in Shawnee's case — even nest.
Elaine Giessel, a semi-retired naturalist for Johnson County Park and Recreation District and avid bird-watcher, said great blue herons are a go-to representation of healthy wetlands.
"The great blue, he's really iconic," Giessel said. "It's important that people realize that having them in the middle of their city means there is that kind of habitat available, and it's worth preserving."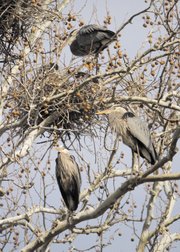 According to the National Audubon Society, the great blue heron can grow to 4 feet — about as tall an average third-grader — with a 6-foot wingspan.
"People are often kind of surprised to see such a large bird flying by," Giessel said. "The fact that they have managed to live among people is pretty impressive."
The birds typically nest in groups but hunt alone, Giessel said.
Fellow birds can help alert them to bobcats, black rat snakes, raccoons or other tree-climbing predators heading for their nests, Giessel said.
When seeking food, she said, great blue herons are territorial, and stealthy.
They wade into water in search of fish, frogs, snakes, crawdads and sometimes even smaller birds or rodents. They watch and wait, then dart at dinner with their spear-like beaks.
Giessel, while studying marine biology in Texas, said she once saw a great blue heron swallow a snake as long as it was tall.
Impressive, she said, but "it was gross."
Diane Gover, owner of Shawnee's Wild Birds Unlimited Nature Shop, described the great blue heron as a "magnificent" bird.
However, she said, they can be a nuisance for residents with decorative fishponds.
"One of the appealing aspects of owning a water garden is enjoying the visiting wildlife, but some guests may not be welcome," Gover said. "Great blue herons are often seen stalking small fish in shallow water. They have no problem swallowing fish larger than 12 inches, and brightly colored ornamental fish are like neon signs."
Hernandez, following a tip from another walker, spotted the birds in the wild just off the Gary L. Haller Trail near Knights of Columbus Park. The closest access point is just south of Shawnee Mission Parkway and Midland Drive.
Hernandez is used to seeing hawks flying, squirrels scurrying, snakes slithering and robins chirping along the trail. But he said seeing a group of great blue herons in one spot was "something different."
Bill McGowan, outdoor education manager for Johnson County Park and Recreation, said he knew of just a few other great blue heron nesting spots in the county's rural areas.
"The rookeries are not all that common," he said. "They just aren't. And a lot of times they're not in areas where people can see them."
Citing "Stokes Guide to Bird Behavior," McGowan said great blue herons typically begin courtship in March and soon start nest-building in isolated areas away from human settlement. They breed from about April to July, and during their eggs' 28-day incubation period, both the male and the female sit on the nest.
A group of birds may use the same rookery for decades, McGowan said. But viewers should keep their distance because colonies are vulnerable to disturbance.
According to the Audubon Society, great blue herons may abandon rookeries or experience diminished reproductive success when disrupted, especially early in the breeding season.
Shawnee parks and recreation director Neil Holman said he hasn't seen Shawnee's rookery but always enjoys spotting solo herons in the city, including at Monticello Springs Park and around Nelson Island.
Shawnee — with its large parks, Kansas River border, middle-of-the-city horse pastures and yet undeveloped woodlands — has more natural areas than the average suburb.
To maintain opportunities for residents to view wildlife like the herons, it's important for Shawnee to maintain a healthy amount of green space, he said.
"Once you scrape it all off and you build something, it's gone," Holman said. "We're not building any more land. You want to be developing, you want to be a go-to city, but there needs to be some type of a balance."