Basehor Farmer's Market moving to State Avenue for 2011
Organizers seeking vendors for second season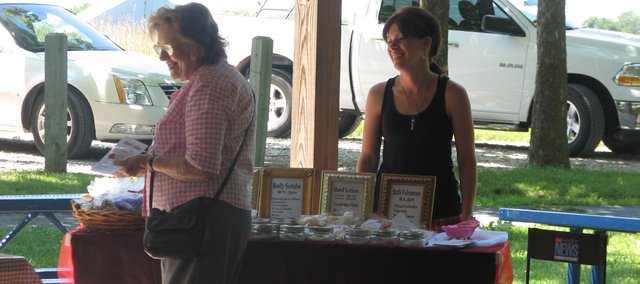 2011 farmer's market details
• 8 a.m.-noon Saturdays from May 7 to Oct. 15
• North of Reece & Nichols near 155th St. and State Avenue
After a trial-and-error first season, the Basehor Farmer's Market will be back for a second year in 2011, with some adjustments.
With a new location intended to draw more traffic, a shift to a weekly schedule and a bigger advertising push to attract vendors, organizer KiAnn McBratney said the market would have a different look this year.
"I'm hoping it's going to be more successful, you know — just getting bigger every year," McBratney said.
McBratney has taken over as chairwoman of the market this year for the Basehor Historical Museum Society, which sponsors the market and uses vendor fees to raise funds.
The most notable changes for the market will be the location and the time, McBratney said.
This year, the market will move to the grassy area north of the Reece & Nichols building near 155th Street and U.S. Highway 24-40, with parking available in the building's lot. In 2010, the market was in Basehor City Park, at 158th St. and Leavenworth Road.
"The change of location is based on just accessibility," McBratney said. "Hopefully, more people see it, which will bring more customers."
The market will also be offered weekly in 2011, from 8 a.m. to noon every Saturday between May 7 and Oct. 15, after being scheduled every other week in 2010. That change will help vendors who sell fresh produce, some of which might not last for two weeks between markets, McBratney said.
"They have to move their products more often than every couple weeks," she said.
The market's organizers are also pushing for more vendors this year, McBratney said, with advertising on bank marquees, a Facebook page and perhaps some help from the city government.
"We're doing our best to kind of listen to the vendors and find out from them, 'What does it take to get you here?'" she said.
Another change for vendors' benefit, she said, was to offer them regular plots from week to week, so they can set up in the same spot for each market.
"I think it's more defined this year than last year," McBratney said.
The society will charge vendors a fee of $10 per market or a $120 fee, paid in advance, for the whole season of markets.
Carla Crawford, director of the museum society, said market organizers were especially hoping to recruit vendors selling fresh produce, and any goods sold at the markets should be "homegrown, homemade or home-raised." That also includes baked goods or handmade crafts and products, McBratney said.
Vendor applications are available at the Basehor Historical Museum, 2812 N. 155th St., at Basehor City Hall, 2620 N. 155th St., and on the historical museum's section on the city's website, cityofbasehor.org (direct link to the form here).
The society is also looking for volunteers to help with the markets, Crawford said.
McBratney said that, with the lack of a grocery store in Basehor, the desire for locally produced and organic food and rising food prices, demand for fruits, vegetables and baked goods from the market should be high.
"I think, with the economy, people are going to be looking for ways to save money," she said.