Basehor voters pick candidates old and new
Miles, Box, Dysart take council seats; Van Fleet, Redmond win school board races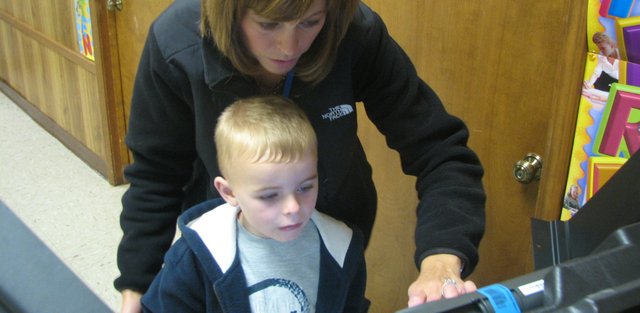 2011 local election results
BASEHOR CITY COUNCIL
Top three win election
Travis Miles — 310 votes
Fred Box — 288
Iris Dysart — 284
Richard R. Drennon — 259
Bill Moyer — 201
Robert "Bob" Moore — 94
BASEHOR-LINWOOD USD 458 SCHOOL BOARD
Position 1: One wins election
Jeané K. Redmond — 430
Larry Harms — 245
Position 7: One wins election
Lori Van Fleet — 293
Jim Peters — 231
Jeff Tindell — 176
Photo Gallery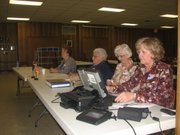 Scenes from Election Day in Basehor
On Tuesday, April 5, residents cast votes for Basehor City Council and Basehor-Linwood school board races.
Basehor-area voters ushered in a mix of the old and the new in the local elections Tuesday.
Two new faces will join the Basehor City Council after challengers Travis Miles and Fred Box won the most votes, but the council's longest-serving member, Iris Dysart, finished just a few votes behind and won a third term.
On the Basehor-Linwood school board, just one of seven members will be new when the new board assembles this summer. Lori Van Fleet, vice president of the Basehor-Linwood Education Foundation, won a three-way race between newcomers to fill Position 7, the at-large seat on the board. Jeané Redmond, the lone incumbent to face a challenger in the election, easily won re-election to Position 1, where she will serve a second term.
All results are unofficial until county commissioners canvass votes Friday.
TURNOUT REMAINS LOW
More voters cast ballots in Basehor than in either of the last two local elections, but an increase in registered voters meant that the voter turnout rate remained similar. According to the Leavenworth County Clerk's office, 538 Basehor residents voted, out of 3,043 who were registered: a turnout of about 17.7 percent.
That number outpaced the countywide turnout of about 15 percent, though polling sites in and near Tonganoxie had by far the highest turnouts in the county, thanks to a school bond issue on the ballot, County Clerk Janet Klasinski said.
Aside from the areas in the Tonganoxie school district, rural areas of the county produced sparse turnouts.
At the Fairmount Township Fire Department station in Basehor, where residents north of town voted, turnout was 4.1 percent, while about 4.9 percent of registered voters cast ballots at Glenwood Ridge Elementary School, where residents south of Basehor were assigned. Residents in those areas had only school board races on their ballots.
"It's pretty much exactly what I expected," Klasinski said of turnout in the county.
MILES, BOX TO JOIN CITY COUNCIL
The two challengers voted onto the city council provided a contrast of experience and ideas.
Miles, the top vote-getter with 310, and Box, who finished second with 288, are both lifelong Basehor residents. But Miles, 25, graduated from Kansas University and started a family in Basehor less than two years ago, and Box, 68, first moved to the city in 1947, when a sign listed the population as 276.
Miles said he thought the election of two new faces to the council may represent the direction Basehor residents wanted to move.
"Bringing in two new candidates in there, I think they want to see a little bit of change on the council, maybe some new ideas," Miles said.
Basehor resident Tracy Case, who voted Tuesday morning at Holy Angels Catholic Church in Basehor, reflected that view.
"We need some new blood," she said.
Miles and Box differed on the issue of the 40 percent sewer rate increase passed by the council in December, a decision that Mayor Terry Hill said caused the city to receive a good amount of negative feedback from residents.
Miles told the Sentinel in a questionnaire and an interview that the rate increase, though a tough decision, was the right call. Box, however, said he thought it was too steep and favored a more gradual increase.
Miles, an IT manager at Suburban Water, Inc., in Basehor, said Wednesday morning that he stood by his position in support of the decision, and he said he thought voters were able to look past the issue.
"They didn't look at just what my position was on the sewer rate," Miles said. "They looked at my other points of view and the direction I was trying to move things, I think."
The lone council incumbent who voted for the rate increase, Bill Moyer, fell short in his first bid for election after being appointed to the council by Mayor Terry Hill in 2009. He finished fifth in voting, with 201. Challenger Richard Drennon, a former school board member who is now buildings and grounds director for the Basehor-Linwood district, finished fourth, 25 votes behind Dysart at 259.
Dysart, who was the only council member to vote against the sewer rate increase, was the only incumbent to win a seat. Jim Washington, the other council member whose term is expiring, did not run for re-election.
Dysart said she thought voters might oust all the incumbents after the rate increase, but her more conservative approach may have won her support.
"I kind of expected a clean sweep after that sewer increase and some of the debt that we incurred," Dysart said. "I thought they might just vote us all out. I feel like there's a lot of people out there that know I'm not big on spending money."
VAN FLEET, REDMOND WIN SCHOOL BOARD SEATS
Van Fleet, a financial manger with the Sherwin Williams paint company and a mother of two daughters in the school district, said she had worried that lower voter turnout in areas outside the city of Basehor might hurt her chances because she lives south of the city limits.
But she won election to the school board's at-large seat over two Basehor residents, Jim Peters and Jeff Tindell. Van Fleet received 293 votes, while Peters, a former teacher in the Kansas City, Kan., school district, received 231 and Tindell, who works for a technology company and is a father of two children in the district, received 176.
Van Fleet said she was not sure what factors led to her election, but she was happy to have a chance to serve on the board. She said she was disappointed at the overall voter turnout, though.
"When it's that low of a number, you kind of think, 'Hmm, shucks, I wish more people had voted,' " Van Fleet said.
Redmond, a senior vice president at U.S. Trust, won a second term on the school board easily, 430-245, over challenger Larry Harms, who works for a local transportation brokerage and attended Basehor schools growing up.
Current board members Dayna Miller and Eric Dove ran unopposed for their school board seats.
VOTERS KEEP WORKERS BUSY
About 10 people were lined up outside the doors at Holy Angels when polls opened at 7 a.m. Tuesday, election workers said. All Basehor residents were assigned to vote there.
A steady stream of voters visited the Holy Angels site throughout the day, workers said, resulting in lines of five to 10 voters at times. New electronic registration equipment resulted in a few brief delays.
Voters who spoke with the Sentinel after casting ballots Tuesday morning said they felt they had a duty to vote for their leaders.
"I think it's a responsibility to vote for the people who are running our town and our country," said Case, a Basehor voter. "You can't complain if you don't vote."
Resident Laura Medina said her attention was focused on the Basehor-Linwood school board. Her 5-year-old son Evan and 4-year-old daughter Chloe, who both came along to the voting booth this morning, will be attending Basehor-Linwood schools within the next two years, she said.
"I want to make sure when they start school that we have the best board members to make decisions for their education," Medina said.
In the last two local elections, in 2007 and 2009, voter turnout in Basehor had been less than 20 percent, and the percentage remained similar this year.
Basehor resident Janet Heim, who also voted at Holy Angels, said those numbers reflected the disinterest of many residents.
"I just don't think people are that interested in a local election," Heim said. "If it's not a president or a governor or something, I don't think they're going to show up too much."