BLHS

softball earns split with Silver Lake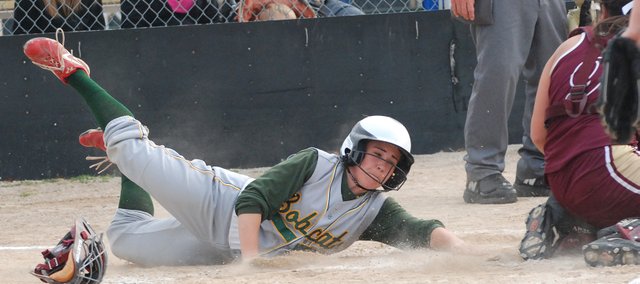 There were elements coach Susan Mayberry liked and others that she disliked in a doubleheader split against Silver Lake on Friday at Field of Dreams.
It was the type of early season doubleheader that coaches can view as a learning experience and also as a chance to build on the quality things the team did.
The Bobcats hope to build on the 6-2 victory on the second game.
"I thought we played with a lot of composure," Mayberry said. "We drove the ball well. It was just a matter of getting a few of those hits to drop. We played with a lot more energy and aggressiveness at the plate."
Silver Lake led 2-1 entering the fifth inning when Basehor-Linwood scored four runs to take control. The Bobcats scored one more run in the sixth inning.
On offense, Mayberry said she was pleased with the team's balance with six of the team's nine batters getting a hit. Brooke Redmond led the way with two RBI. Hannah Tush and Kortney Rist each had one RBI.
Shelby Pierce pitched and earned the victory.
"Shelby pitched very well," Mayberry said. "She did a nice job of mixing in her change-up and kept the hitters off balance. She had four innings that were three-up and three-down, which is what she's looking to do."
The performance followed a 9-3 loss in the first game.
Basehor-Linwood committed four errors and allowed 11 hits. The team's pitchers also tossed numerous wild pitches, allowing Silver Lake to advance on the bases.
The game was close for a while. Silver Lake led just 3-1 entering the fifth inning, but the Eagles plated two more runs and extended the lead. They tacked on four more runs in the seventh.
Basehor-Linwood countered with two runs in the bottom of the seventh inning, but it wasn't enough. Silver Lake pitcher Megan Lockwood earned the victory.
Brooke Redmond started the game for BLHS and Pierce pitched in relief.
The majority of Basehor-Linwood's offense came via the home run as Pierce and Allison Kasick each hit four-baggers.
Mayberry said her team is capable of playing better softball.
"We think that we can play so much better than we did," she said. "It's a matter of tunneling our focus from the minute that we step off of the bus to the last play made of the day. Offensively, we drove the ball hard. Unfortunately the hits were right at Silver Lake's outfielders who played at the fence."
BLHS (5-3) next plays at 4:30 p.m. today at home against Piper.