Dracula-inspired play on at
BSHS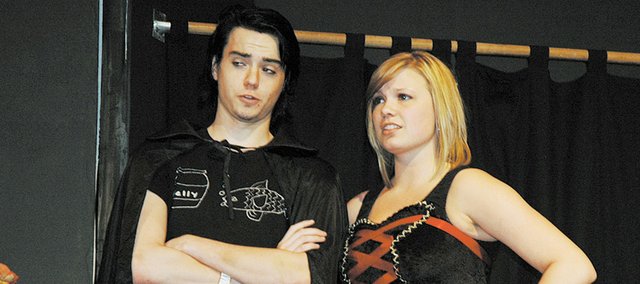 Photo Gallery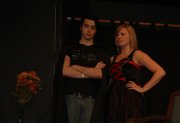 'Drac's Back!'
Bonner Springs High School's production of "Drac's Back!" will be tonight, April 14, and Friday, April 15.
On their way back from a field trip, the school van has run out of gasoline in the middle of a thunderstorm and there is no service station in sight.
But that's not the only problem teacher Mary Cole (Angelica Harris) and her students have to worry about in Bonner Springs High School's production of "Drac's Back!" going on this weekend.
When Cole and her students decide to take refuge in an old castle nearby, they soon discover that if they aren't careful, they might become the next meal of Dexter Drackman (Zach Scharpe), who is actually Dracula in disguise, and his wife, Trixie (Katie Ellingsworth).
There is more to the plot than just students fearing for their lives, however. Drackman's sisters Bella (Samee Sprenkle) and Della (Kaylie Holloway) have been living alone in the castle for years. But their brother, who has stopped in for a visit after eloping with Trixie to Las Vegas, decides he wants his sisters out so he can have the castle for himself and his new wife. He hatches a plan to have them committed in the town's mental institution, Happy Acres.
Director Dan Streit said it was this element of the plot that originally drove him to choose the play.
"('Drac's Back!') reminded me of a lot of shows we've done in the past with a lot of action," Streit said. "And I like the storyline of Dracula coming back to his house to take it away from his sisters. It's kind of a twist. Usually he's the one in charge, but they're in charge."
Streit said he also chose the play because he wanted to work with a large cast of students this year; the play calls for 19 characters.
With several twists and turns, and a bit of clever dialogue here and there, Samee Sprenkle said she hoped the audience members would find the show as funny as she and her castmates do.
"I think they're going to laugh," she said following the show's first dress rehearsal Tuesday afternoon. "It's really funny, and when we're up on stage we want to laugh 'cause it's really funny."
The students will perform "Drac's Back!" at 7 p.m. tonight, April 14, and Friday, April 15. Call BSHS at (913) 422-5121 for ticket information.
• For photos from "Drac's Back!" turn to page 24 or visit bonnersprings.com.