BLHS

 boys soar to 2nd at Bobcat Relays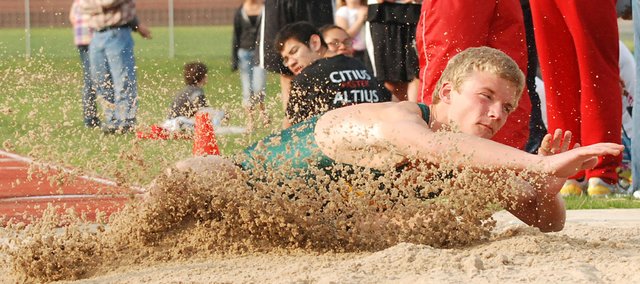 An exhausted Daniel Prioleau came up to Basehor-Linwood track coach Steve Hopkins after the final team scores were announced Friday at the Bobcat Relays.
Photo Gallery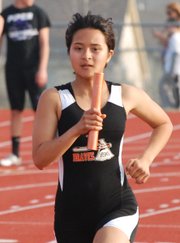 Bobcat Relays 2011
Piper had edged BLHS for the title, 128-125, and Prioleau was disappointed.
"He comes up to me and says, 'Coach, I wish I had a little bit more. I think I could've got him,'" Hopkins said, referencing the Bobcats' third-place finish in the final relay race of the night. It would've required a first-place finish for the Bobcats to win the meet.
Hopkins couldn't help but smile. He knew Prioleau had done more than enough.
Prioleau was the meet champion in the 100-meter dash in a scorching 10.93 seconds, and he won the 200 in 23.03. On top of that, he anchored the first-place 400-meter relay team and then anchored the 1,600-meter relay team to a third-place finish.
"Daniel Prioleau dominated," Hopkins said of his senior sprinter. "He did not just win specifically in the 100 and 200. Those margins of victory are just not right. Second place in the 100 was 11.4, a half a second behind, and second in the 200 was 24.3, so he wins by more than a second. Those are the kind of victories you don't normally see in a sprint."
As for the 400-meter relay, where Prioleau teamed with Miles Brown, Trey Kinchloe and Skylar Ross, that group's time of 44.05 set a BLHS school record.
"We were real excited about that," Hopkins said. "The kids have really, really wanted to get that for so long and we hadn't done it until Friday night."
Bryce Garver, Brown and Mitchell Cook joined Prioleau on the 1,600-meter relay that finished in 3:38.87.
Other top performances came from Jesse Hiss who was second in the shot put with a heave of 46-10 3/4 and Jacob Powell who was third at 44-5 1/4. The Sprint medley relay team of Alex Jackson, Kincheloe, Lane Young and Corey McCleary took second in 1:48.36.
The Bobcats showcased their newfound depth by scoring points in almost every event. Tyler Simpson finished fourth in the pole vault with a 9-6 clearance. In the jumps, Brown finished fourth in the long jump at 20-6 and Lane Young was fifth at 19-9 1/2; Tyler Simpson was seventh in the triple jump at 36-7 and Young was eighth at 36-6; and Ben Johnson finished fifth in the high jump at 5-8.
In throws, Johnson took seventh in the shot put at 40-9 and Hiss was seventh in the javelin at 135-4. Meanwhile, BSHS went 3-4-6 in the discus as Powell threw 124-4 1/2, Johnson threw 122-6 and Hiss threw 117-7.
In the 110 hurdles, Matt Ogilvie finished eighth in 19.10.
In sprints, Brown was fourth in the 400 in 54.52 while Nick Yanos was fifth in 56.09, and Alex Jackson took fifth in the 100 in 12.00.
The Bobcats even delivered in the distance races. Jonathan Oliva finished fourth in the 1,600 in 5:06.99, Rob Peterson was fifth in the 3,200 in 11:42.28, and the 3,200-meter relay team of Oliva, Yanos, Cook and Peterson finished fourth in 8:59.75.
"We scored in virtually every event, and in three or four key events we scored more than one time," Hopkins said. "That's how you score team points. In the past we had Daniel do well or one other individual, but doing it as a team has made this possible."
The Basehor-Linwood girls don't have nearly the depth as the boys' squad, but Hopkins said that made their fourth-place finish in the team standings particularly impressive. Powerhouse Piper finished first with 182.5 points and Tonganoxie was second with 152. Bonner Springs took third with 88, just eight points ahead of BLHS.
The depth is developing, and it was clear as the Bobcats scored points in sprints, distance races, hurdles, relays, jumps and throws.
Dakkota Edmonds battled the flu but still turned in a sizzling day for the Bobcats. She took second in the 100 in 12.66 and joined Rachael Cook, Courtney Inlow and Shelby Equels on the third-place sprint medley relay team that finished in 2:06.53. Edmonds teamed up with Cook, Equels and Inlow on the 400-meter relay. Edmonds ran a blistering anchor leg and took the team from sixth to third place in 53.60 seconds.
"Courtney Inlow's handoff really made up three or four steps," Hopkins said, "and oh my God, Dakkota's anchor leg … she got the baton in sixth and finished in third, barely out of second."
She also qualified for the finals of the 200, but by then her health dwindled enough that she had to miss the individual race.
More than a relay standout, Equels added a second-place finish in the triple jump with a leap of 31-7 and finished eighth in the long jump at 14-3. Allison Heinen was second in the long jump at 15-3 1/2.
The 3,200-meter relay team of Sarah Rehm, Katie Eberth, Haley Stallbaumer and Ally Laney took second in 11:18.96. Laney added fourth-place finishes in the 1,600 (6:06.78) and 3,200 (13:32.37), and Stallbaumer finished seventh in the 800 in 2:53.05.
In the 100 hurdles, Inlow placed fourth in 18.48; Cook was fifth in 19.79.
The Bobcats' throwers also had a big day. Victoria Smith placed fourth in the javelin at 99-2 and fifth in the shot put at 29-10 1/4, and Mallorie Belk was eighth in the shot put at 27-4.