Comedian's show pays visit to Bonner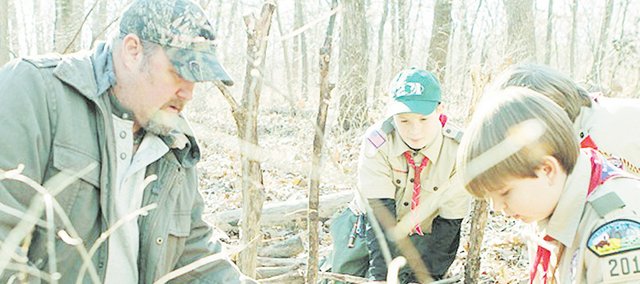 Parts of a stealth visit late last year to Bonner Springs by comedian Larry the Cable Guy soon will be broadcast on cable television's History Channel.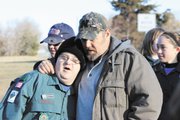 Though not many knew about it, due to the show's insistence on keeping the shoot low-key, a crew with the new History Channel show "Only in America with Larry the Cable Guy" stopped Dec. 2 in Bonner to shoot a segment on Boy Scouting. The show, which Boy Scout officials were told likely will air in April or May, was shot both at Camp Naish and in Bonner Springs' North Park.
Randy Kidder, development director for the Heart of America Council of the Boy Scouts, said he was contacted in Mid-November by Pilgrim Films & Television, which also produces shows like "Dirty Jobs" and "Ghost Hunters."
He said the show decided to do a segment on the Boy Scouts while filming footage for an earlier show.
"It all came down to one of the segments they were filming at the Texas State Fair; there was a Cub Scout part of the pie eating contest that I guess was a particularly interesting little character," Kidder said.
The show also was inspired at the fair by the Boy Scouts'Adventure Base 100, a traveling, hands-on camp exhibit celebrating Scouting's 100-year anniversary. They ended up choosing Kansas City as a location for the Scouting segment because they planned to shoot another segment in the area.
"They were trying to find a place where Larry's shooting schedule and a Scouting location worked," Kidder said.
Though the show's production team had planned to find a shooting location in Kansas City, Mo., Kidder said he insisted that Camp Naish would be the best location.
"I had to send photos of camp so they could see it would be a good spot, photogenic-wise," Kidder said.
With only a little over two weeks to arrange activities for the shoot, Kidder said he didn't have time to track down a more local group of Scouts for the show and, instead, a group of Venture Scouts from Kansas City, Mo., was featured.
For the activities, the Scouts showed Larry the Cable Guy a flag ceremony, knot-tying session, wilderness survival techniques and the climbing tower and ropes course at Camp Naish. But they wanted Larry to "meet" the Scouts as they were doing a service project, so they contacted the city of Bonner Springs to arrange for the Scouts to install a bench and plant a tree at North Park.
With only 12 hours to shoot, the schedule was strict.
"They also asked us to keep it quiet, because they've had something like 600 people show up (for other shows)," Kidder said. "The only people we let know were the people that were involved in the shoot."
Still, there were a few more people at Camp Naish that day than the 35 or so that had been cleared, and the camp had to close its gates.
"It was amazing how many people just all the sudden had a reason to be out at camp," Kidder said. "We had about 80 people show up at lunch time."
Kidder said Larry the Cable Guy was great to work with, and he made sure to give some special attention to a Scout with Down syndrome.
"He will go out of his way to spend some time with them," Kidder said. "It was really a fun day. He ate lunch with all the kids and spent time joking with them, so it was really a good day."
While the show's producers contacted the Heart of America Council about a month ago to let them know the episode that will include the Scout segment was ready to air, they weren't sure when exactly when it would air, only saying it would likely be in April or May.
"We know it's in show number 16, but they don't necessarily show them in (numerical) order," Kidder said.