Event center opens in downtown Bonner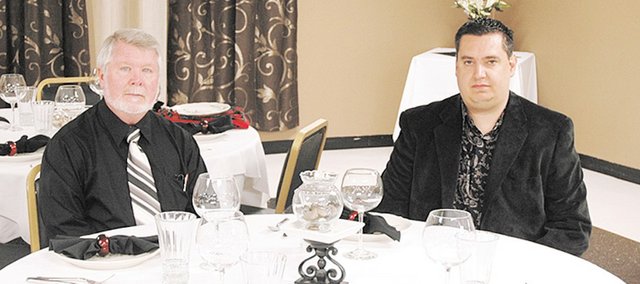 Two new business partners are hoping to provide a much-needed space for banquets and formal events, plus a fun hang-out for teens and space for other community events.
Dan Wilson and Joe Morris are opening the Bonner Springs Event Center at 131 Oak St., and while they have renovated the space to make it more appropriate for formal events, they want to offer more than just a space for receptions and galas.
The duo joined together because of Wilson's hopes to open his own business. He was inspired to create an event center business nearly a year ago, when he came across the Bonner Springs location while doing online research.
"I saw the place, saw some potential here, and the need, because I felt like there was no place around here that had a banquet center," Wilson said.
Morris, who already owns a janitorial maintenance business, is a longtime friend of Wilson's son, so Wilson asked if he would like to be business partners.
For the past several months, the pair has been spiffing up the space. Morris said renovations have included repainting, cleaning and redecorating, though they hope to continue to upgrade the space as the business grows to make it more elegant.
"The place had been just sitting here — it was very outdated," Morris said.
After looking at the space, the two quickly brainstormed multiple uses for it aside from weekend and evening event rentals. Wilson liked the idea of creating a "Teen Town" or dance club for 15 to 18 year olds on Friday nights.
"Years ago, they used to have places for teens to go and dance and have a good time," Wilson said, explaining that such venues have seen a rebirth elsewhere. "… So we thought why not try it here."
They hope to start off teen nights on April 22. They will begin with a DJ, a dance floor and concession-style food, but once the teen nights get going, they said they hope to have talent nights and bands.
"We'd invite the parents to come in, as well, so they can feel comfortable leaving their kids," Morris said. "We just felt like kids get tired of movies and malls."
They plan to add a recreational area or game room with pool tables and video games. Once they receive a liquor license, Wilson said they also would like to have bands perform for adults, including blues, jazz and country music. For Tiblow Days, they plan to offer the space for vendors.
During the day on Saturdays and Sundays, they'd like to offer the space for rental for a community flea market.
"Hopefully we can start drawing people in the community and bring them in here," Wilson said.
Outside of these various uses, they already have some days reserved for the more traditional events, like quincenearas and wedding receptions. The space offers a full kitchen, tables and chairs, and the business will provide for linens, tableware and any other rental service necessary at a what they say is a cheaper price than is commercially available.
"Anything they want, we'll get it," Wilson said. "Catering and limo service, we'll get that. We'll have a portfolio of things, and we'll set it up, kind of like an event planner."
The business can be contacted at 209-3726 or bonnerspringseventcenter@gmail.com.