Bonner homeschoolers to take part in forensics tourney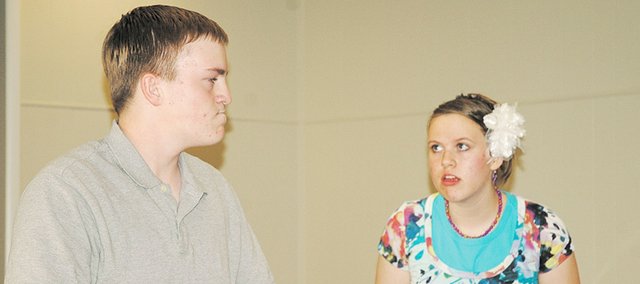 Three Bonner Springs teens are showing off their performance skills this week at a national forensics competition.
Homeschool students Abigail Wiley, Loran Wiley and Kaihtlyn Hammeke, competed at the Mid-America Association of Christian Schools' regional Bible Academics and Fine Arts competition on March 17 and 18, facing students from several other states. Abigail, a junior, and Loran, a sophomore, took first place in duet acting, and Kaihtlyn, a junior, took first place in dramatic interpretation, which earned them the right to move on to the American Association of Christian Schools' national competition this week, April 12-14, in Greenville, S.C.
The students said they were looking forward to competing with others from across the country.
"I'm nervous, but I'm also excited because it's going to be a chance to meet other people who do what you do and who are the best of the best," Kaihtlyn said. "To get the chance to compete with them is going to be amazing. I think it will be fun no matter what."
All three students are part of the Bonner Springs-based STARS Homeschool Co-op, which stands for Students Training in Academic Relationships and Service. Founded about 10 years ago by the Wileys and two other families, the co-op typically includes about eight families, though it currently has six.
The student have had speech and drama classes for the last four or five years.
Kaihtlyn said she had chosen her piece, "Sophie's Choice," by September and had it memorized by January. The tale of a Polish mother forced to choose which of her children would live during the Holocaust, the eight-minute piece was difficult because it included some German and required a German accent in some portions.
"Luckily, my mom did take German a little bit when she was a kid, so she was able to help me with the pronunciation," Kaihtlyn said. "It was really funny, trying to make the accents sound like it was supposed to. It took me quite awhile."
Abigail and Loran's piece, "Front Porch Chronicles," tells the tale of an elderly man who gets to know the little girl next door through a series of front porch visits from the time she is 7 until she moves away for college.
The Wileys faced a challenge because they didn't learn until January that the piece they had originally chosen wouldn't be allowed in competition because it wasn't published, so they had just over two months to choose and learn a new piece.
"Memorizing is the easiest; that took a week," Abigail said. "It's the blocking and making sure we have the right facial emotions and make it look as real as possible and not just memorized."
It was also a bit of role-reversal for the siblings, as Loran would play the elder character. He said he took some inspiration from his great-grandparents for his role of "Mr. Grump."
"I did model myself a little bit after my great-grandpa," he said.
The Wileys said they also used the movie "Up" as a guideline for the relationship between an elder man and a younger child. Abigail said she liked having such an animated character.
"This is the first time where I get to have what we'd call the 'fun' character," she said. "It's been fun to have a different role, and plus being a 7-year-old is fun."
The Wiley siblings qualified to go to nationals last year but decided not to make the trip. This year, they are attending with their mother and grandmother, as well as Kaihtlyn and her parents.
Competing has helped the students get comfortable with speaking and performing in front of others, the Wileys said, so they hoped to do well on the national stage.
"I'll have a little bit of nerves just because that's normal," Loran said. "But I just get up there and I have so much fun, that kind of takes care of the nerves as far as speaking in front of people."