Lansing's Pride events sign turns 10
About 15 years ago in our Pride meetings, we talked about getting news to people who did not take the paper.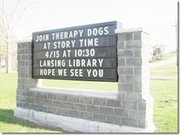 We thought about a changeable copy sign at a place that everyone driving along the highway could see. Our problem was how do we pay for it? We had to have a location. and when I talked to Warden David McKune about the corner of Kansas Avenue and U.S. Highway 73, we got the OK from the state of Kansas.
The warden agreed to let us use prison labor to build the sign. We used leftover blocks donated by the fire department. Our sign shop built the electrical sign cabinet and ordered the letters, all of which was paid for by the city of Lansing. Our son, Tom, and I did the installation.
This sign has been up and running for 10 years now and has been used by organizations, churches, city announcements, library, museum, etc. For the first four years our Pride Committee did the scheduling. Ada and I put the changes up the first year before the prison inmates took over the job. After that we worked out the schedule and e-mailed the secretary at the Prison so their laborers could make the changes. Eventually the city took over that job and that is how it stands at this time.
That sign is just one example of things that get done in our town with so many residents working together.
And speaking about events, watch the sign for our upcoming Spaghetti Dinner at City Hall, sponsored by the Historical Society. It is at 5 p.m. Thursday, April 28, and is always a good time and good food.
From all indications, it looks to be another busy, fun filled summer in our town.