Marking Earth Day: Ideas offered for celebrating Mother Earth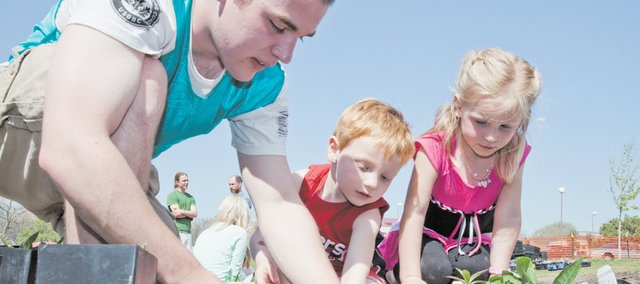 Earth Day will be observed this year on Friday, April 22. Mary Knapp, climatologist with the K-State Extension Service, answers questions below about Earth Day.
Q: As a climatologist, how is Earth Day important to you?
A: Earth Day provides another opportunity to remember our connection to the world around us. Whether we live a city, small town or rural area it is important to recognize how our activities can impact that world.
Q: There's a tendency for people to plant trees on Earth Day, but you don't recommend that in Kansas. Why?
A: It's not that I don't recommend planting trees. It is more that you need to carefully consider what you are planting. Is it native or adapted to the region? Will it require special care? Will it still fit in the site as it grows and ages? Kansas Department of Forestry, and K-State Research and Extension can help you identify suitable plants.
Q: What do you recommend instead of trees for planting on Earth Day?
A: You could plant a native grass or shrub.
Q: Why is ornamental grass "earth friendly" in Kansas?
A: Grass and grass-like plants tend to be by far our top carbon dioxide users and oxygen producers. Plus, ornamental grasses require little water, yet help prevent soil erosion and filter pollutants out of rainwater runoff. The KSU Horticulture and Research Center at Olathe has a trial site that evaluates the characteristics of the grasses. You can find out more about recommended plants from the K-State Horticulture, Forestry and Recreational Resources website: www.hfrr.ksu.edu/p.aspx?tabid=731
Q: What other "green" activities would you recommend as an Earth Day exercise for Kansans?
A: People might use the day as an opportunity to visit a local nature preserve or wildlife area. Find out how you and your family can enjoy the outdoors while minimizing your impact on your surroundings. You might consider starting a garden, or volunteer on a cleanup project in your neighborhood.