Basehor City Council president Washington says goodbye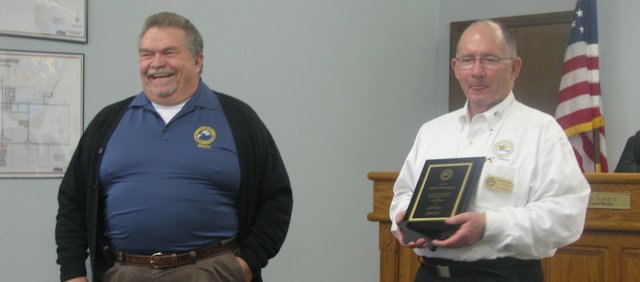 Photo Gallery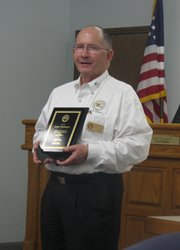 Transitions at Basehor City Hall
Monday marked the departure and arrival of several Basehor City Council members. Member Jim Washington was honored at the end of his four-year term, and new members Travis Miles and Fred Box were sworn in.
Jim Washington said Monday that he wouldn't take his eye off the city government now that he is no longer on the Basehor City Council, and he immediately proved he wasn't lying.
Shortly after being recognized for his four-year term on the council, with his daughter and grandchildren present, Washington spoke as a city resident during the public-comment portion of the council's meeting, encouraging the city not to change its system of accounting and auditing.
"I've enjoyed my four years, I just hope that the progress continues," Washington said after being honored, "and I'll be watching."
Mayor Terry Hill recognized Washington before two new council members, Fred Box and Travis Miles, along with one re-elected member, Iris Dysart, were sworn in. Outgoing member Bill Moyer, who was not elected after serving half a term as Hill's appointee to fill his council seat, was also to be honored, but he was not present.
Hill said Washington had never been one to shy away from disagreement, and that was one reason he had been a great asset to the council.
"None of us always agree," Hill said, "but it's always been a rewarding conflict with Jim to discuss different approaches to the same problem and come up with the best solution."
Washington was one of three council members to vote against Hill's first nominee to fill the city clerk position in April 2010.
Washington acknowledged Monday that he and Hill had disagreed on occasion, but he said they had resolved their conflicts. He said he was pleased with the city's current staff.
"I think for the last four years we have made significant progress in this city," Washington said. "We have done a lot to get control of a lot of issues that were just totally out of control."
The city re-shaped much of its staff with Hill as mayor and Washington as city council president. During the past two years, the city has hired Mark Loughry as city administrator, Mitch Pleak as city engineer and planning director and Corey Swisher as city clerk and finance director.
Washington said he thought the council's best accomplishments since he was elected in 2007 included the installation of the new staff members and the completion of the city's wastewater treatment plant expansion under budget and ahead of schedule.
His biggest regret, he said, is that the council allowed the now-folded Wolf Creek Marketplace grocery store project to proceed.
"I regret that we didn't stop Wolf Creek, because we're caught with kind of a big liability there," Washington said.
Council member Dennis Mertz, who was elected in 2009, took over for Washington as city council president Monday after a nomination from Dysart and a 4-0 vote. Member David Breuer was absent.
Also during Monday's council meeting:
• The council opted to continue using Generally Accepted Accounting Principles in its annual audit, which will cost the city about $9,000 more, but which council members said would protect against fraud. An agenda item called for the council to consider instead switching to a cash-basis audit, but the item died when no council member made a motion.
• Loughry reported on several groups considering possible developments in Basehor. The interested groups include the Army Reserve Center, an assisted-living facility and a developer looking to build a new strip-mall-style shopping area, he said.
• The council approved, 4-0, an contract with the Pepsi Beverages Company to serve Pepsi products at the Field of Dreams athletic complex.
• The council approved, 4-0, the appointment of Kevin Istas to the Basehor Planning Commission.
• The council approved, 5-0, an ordinance rejecting a re-zoning request for the property of a former service station at 2705 155th St., with Hill voting. At this month's council work session, members encouraged the property owner to seek a special-use permit rather than a re-zoning of the property.
• The council approved, 4-0, the scheduling of its 2011 retreat workshop for 9 a.m.-2 p.m. Saturday, April 30, at the Falcon Lakes subdivision clubhouse.