The things they queried
Middle school students record history with
WWII

vets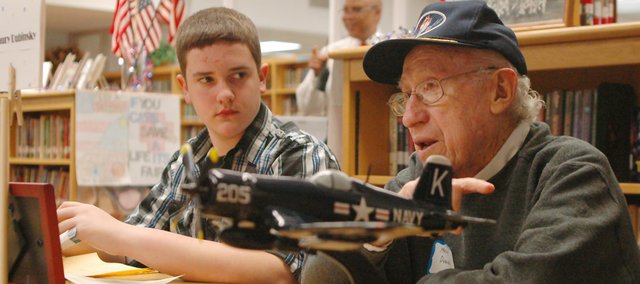 Bill McCune didn't want to bring too much to carry. So he left his rifle at home, instead bringing its bayonet to Trailridge Middle School's library.
The bayonet, and the shiny brown helmet the 92-year-old World War II veteran also brought, were captured from Japanese soldiers during three years of naval duty. They were centerpieces on McCune's table, one of six, where teams of eighth-grade students rotated and interviewed World War II veterans for a social studies research project on April 12.
Every table had something on it. Every veteran had a story.
"Every day it comes up," said Maury Dubinsky, who flew 20 Pacific missions in the Navy. "You never forget. Now you hear news every day of someone you know dying. It's a good thing to interview us now, because in a few years nobody's going to be around."
Dubinsky brought photographs of fallen soldiers on gurneys with American flags tightly covering their bodies. He brought a model of the USS Intrepid, which carried his F-6 Hellcat. He brought a model of that plane, too, and talked about its six 50-caliber machine guns, its eight five-inch rockets, its 500-pound general purpose bomb and its 273-gallon fuselage.
"The main thing you had to worry about was getting back to the carrier," he told his first three interviewers — Emilio Amunatigui, Josh Patrick and Sam Nobrega.
A dozen veterans attended — six during the day's first three blocks of classes and six for the last. The visit was an expansion of a project at Indian Hills Middle School. Students from both schools will create research papers and projects to display at an interactive museum April 27 at Indian Hills.
Gary Swanson, a retired IBM manager from Leawood who has interviewed more than 1,000 World War II veterans in a project for the Library of Congress, helped organize Tuesday's activity. The project at Indian Hills is in its second year while Tuesday was the first such event at Trailridge.
He said Trailridge social studies teacher Chaussee Druen jumped on the opportunity to participate.
"If I had my druthers they'd be in front of every social studies middle school class in the area," Swanson said.
Swanson said he reached out to Olathe and Blue Valley schools for similar projects and recently sent veterans to a Lee's Summit, Mo., school. For the most part, he's had to rely on grassroots organizing, but that might change with help from the Shawnee Mission school district's social studies resource specialist, Deb Brown.
Brown said she and Swanson would meet later this spring to discuss continuation of the project. She indicated Hocker Grove could be the next school to invite World War II veterans but that the school first needed to settle in its new teachers and students that will come as a result of Antioch Middle School's closing.
For all schools in the district, she said, it will depend on individual teachers buying in to the program and putting in the necessary preparation.
"I do think we get bogged down and forget that it's worth setting up some long-range plans like this," Brown said.
One project might talk about when the first atomic bomb fell on Japan — August 6, 1945. It was Dubinsky's birthday. Or about how he was finally able to marry when the war was over.
"I stayed in a little while after that," he said.
Norman Hudson, who just turned 91, said he married the first woman he saw when he got home. They were together for 55 years until she died. They're still together in the picture frame he carried with him.
Hudson wore his old Army uniform, with medals on its breast and in its pocket hand-written poems that he later recited. On the table in front of him was a samurai sword he brought home from the Philippine Islands.
Ian Scott, a seventh-grader, wandered over to talk to Hudson between classes. Quiet and hanging on the veteran's words, Ian stopped by because he was interested in samurai swords.
"That's as sharp as one of my pocket knives after four hours of sharpening," the boy said after Hudson unsheathed the sword.
"Capt. Eddie Bradshaw, a close friend, was killed by one of these," Hudson said, later adding: "The experience you have during war is just written on your mind like a computer."