For 2nd straight year,
BLHS

pitcher Stubbs is Cyclone-stopper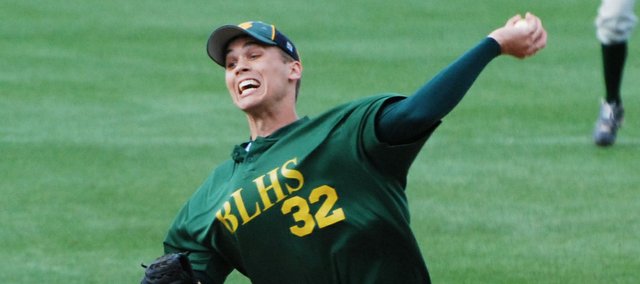 Austin Stubbs has developed a knack for pitching in his home park against Bishop Ward.
For the second straight season, Stubbs, a Basehor-Linwood starting pitcher, defeated Bishop Ward while throwing in the friendly confines of the Bobcats' home stadium.
Stubbs pitched six innings and led the Bobcats to a 2-1 victory against the defending Class 4A state champions. He allowed just one run in the fourth inning. With the win, Basehor-Linwood improved to 4-4 on the season and gained some momentum midway through the season.
"Yes, we feel good after this win. It is a good one to grow off of," Stubbs said. "We have had our home field here for three years and never lost to them at home."
Stubbs had good command of his fastball and curve throughout the game, but he said he struggled to control his cutter and changeup.
Still, any troubles Stubbs may have had paled in comparison to Ward's woes at the plate. The Cyclones managed just one hit off of Stubbs.
In the fifth inning, Stubbs surrendered a leadoff triple but managed to pitch out of the jam. He worked out of it by getting a fly ball and a pair of groundouts.
"Austin Stubbs pitched awesome tonight for us," coach Brian Lohafer said.
Stubbs is one of seven seniors for the Bobcats who are playing pivotal roles for the team.
"We have seven seniors on this team, and all of them are contributing for us right now," Lohafer said. "We have some juniors who have been doing some nice things for us as well."
Basehor-Linwood has played quality defense throughout the season, but Monday's game was decided on timely hitting and opportunistic base running.
Basehor-Linwood scored its first run in the fourth inning. Tyler Ogden reached base on a fielder's choice and advanced to second base on a bunt. From there, Ogden attempted to steal third base and scored on a wild throw by the catcher.
The Bobcats led 1-0. Bishop Ward tied the game up in the fourth inning.
In the sixth inning, Basehor-Linwood scored what would be the game-winning run when Nick Rhodes scored on a single.
The Bobcats led 2-1 and turned to Jared Patton to record the final three outs in the top of the seventh. Patton responded by retiring the side in order.
After the game, it was a happy scene at the ballpark. Players congratulated each other and gathered in right field.
"This was a great win for you guys," Lohafer told his team after the game.
He then emphasized the importance of continuing to improve and taking care of business on the field and off.
Basehor-Linwood visits Bishop Ward at 3:30 p.m. today for a single game. The Bobcats then play at 5 p.m. Friday at home against Blue Valley Southwest.