Congressman discusses budget issues in town hall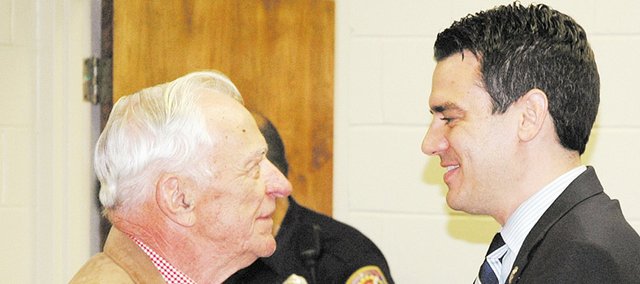 Area residents packed the city council chambers at Bonner Springs City Hall Monday for a chance to meet with Congressman Kevin Yoder.
Yoder, R-Kan., has had monthly town hall sessions since taking office as the 3rd District congressman in January, visiting Overland Park, Olathe and Lawrence. He discussed the national budget and the Republicans' "Path to Prosperity" plan, and audience members quizzed him on topics including immigration, energy costs and the future of the Postal Service.
"This is probably one of the most favorite parts of the job for me: the opportunity to visit with constituents, to tell you what we're doing in Washington, to tell you what we're trying to stop doing to you in Washington," Yoder said.
Yoder said since being sworn in on Jan. 25 as one of 87 new Republican freshmen in Congress, legislators are focused on job creation and cutting spending by getting government back to its core responsibilities.
He said he voted against the bill for the budget passed for the rest of the 2011 fiscal year because he didn't feel it reduced spending enough. He also did not approve of how the bill was crafted, under the pressure of a government shutdown.
Now, the House of Representatives also has passed the Republicans' 2012 budget, though Yoder said the Senate wasn't interested in the plan.
He said the government borrows 42 cents of every dollar it spends, and 47 percent of the debt is held by foreign countries. The country pays about $200 billion annually in interest, which was projected to raise to nearly $1 trillion in 10 years.
"That shows you that we are in a huge spending crisis in this country," Yoder said.
He said driving the debt more than anything else are the country's entitlement programs: Medicare, Medicaid and Social Security. The three would take up every tax dollar by 2050 if spending continues at current rates.
He said the "Path to Prosperity" plan would cut spending across the board, make modifications to Medicare and Medicaid, and over time help the country get a handle on the debt. He explained it would help create jobs and balance the budget.
"This may not be the perfect option, there may be other options, but we have to decide as a country which path we want to take," Yoder said. "There are many people in Washington who believe that we need greater regulation, greater taxation, greater debt and greater spending — that that's the pathway to prosperity. But that's what Washington has been doing for generations, and it's not working."
Members of the audience discussed the near government shutdown last week, the Dodd-Frank bill's effect on banks, the "Path to Prosperity's" effects on veterans, and removing regulations that are hindering private business.
"There is a belief among half of those in Congress that regulations create jobs," Yoder said of the latter topic. "… They believe when we cut government spending, we're killing jobs and when we cut regulations, we're killing jobs.
"This is a fundamental question: Do we believe that money creates better wealth when it's in the hands of the American people and when they have the authority to build and not be burdened by regulations, or do we think we're better off when we have a more centralized, powerful government that has more regulations and more federal workers?"