Edwardsville lauded as 'business-friendly'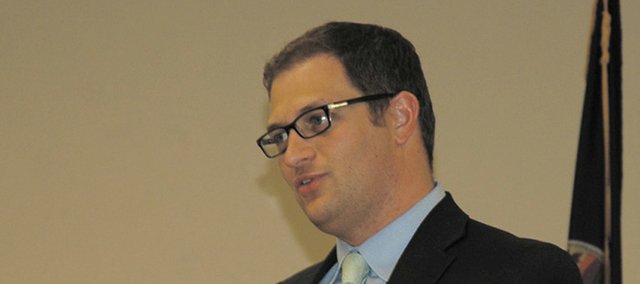 It wasn't just "thanks for attending" remarks Brent Miles made to open his presentation at Thursday's Edwardsville business appreciation luncheon.
It was thanks on a much wider scale; it was thanks for staying afloat.
"Thank you, not only for coming out, but thank you for what you do in this community and thank you for surviving," Miles, president of the Wyandotte Economic Development Council, said to the business professionals who attended the luncheon at Edwardsville Community Center. "We've been in a war for the last several years with the economy, and I don't know if you've ever heard this statement, but I always say it's a recession when someone else is in it; it's a depression when you're in it. And, for small businesses, especially probably some of the people in this room, nothing more can be the truth than that."
The rest of the presentation was more of a pep talk, started by Miles' next comment: "Trust me when I say it's getting better."
He went on to say the economy that has given large and small businesses so much grief over the past couple of years was getting better, noting recent business growth seen and outside the city. He mentioned the Hollywood Casino and Cerner Corporation office complex, both under construction in western Wyandotte County, as examples of the area's success. He also noted the General Motors plant in Fairfax, which is the sole manufacturer of both the Chevrolet Malibu and Buick LaCrosse in the United States.
Miles didn't overlook Edwardsville, though, saying that, while the city may be "overshadowed" by the Legends at Village West area, there was much activity within the city of which to boast. He mentioned Earp Distribution and Premiere Beverage Inc., both currently under construction and expected to open later this year, as two of several businesses in Edwardsville that are helping to give the city its own foothold independent of Village West and the Speedway.
He added that 11 years ago Cerner and Hollywood Casino didn't even exist, which suggests that even more major developments are in the area's future, Edwardsville included.
"So people say, 'What's next?' and I say, 'I don't know, but we're ready for it,'" Miles said. "And that's something that I think hopefully you understand as you sit in this room today, is that Edwardsville in particular is a very business-friendly economy."
Miles said it was the smaller businesses, like several of those represented at the luncheon, boosting the county. And one of the main goals of the Economic Development Council, he said, was to do whatever it could to keep those smaller businesses running smoothly.
"We're trying to bring new business into our community that currently aren't here, and we're trying to keep the ones that are here happy, strong and going," Miles said. "And that is a tough job, especially on the what we call the business-retention side. How do we keep you here and happy?"
One way to hold onto small businesses, Miles said, was through the new low-interest loan program being offered by the county.
The program allows small businesses to take out a 4 percent fixed interest loan for 15 years if it's for the purchase of a building and 10 years if it's for the purchase of new machinery or equipment. The program, he said, is geared to help businesses "get through this economy and ride the wave back up."
For more information about the loan program, contact the Wyandotte Economic Development Council at (913) 371-3198.