Yo-yo championship to come to Marble Days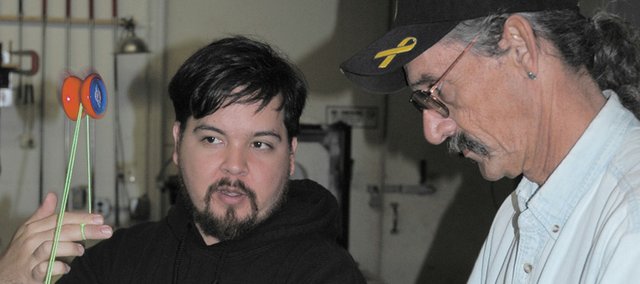 A new feature for this year's Marble Days events is sure to bring more people and more fun to the fifth annual festival.
The Kansas City Yo-Yo Club will bring the 2011 Kansas State Yo-Yo Championships to the Bonner Springs Community Center during Marble Days on May 7 with the hope the championships will find a new, permanent home in Bonner Springs. In addition to bringing in yo-yo competitors, organizer Blake Freeman said he hopes the event also will bring in a number of spectators.
"They can expect a lot of exciting, revolutionary yo-yoing that probably not a lot of people have ever seen before," he said.
Freeman, an Olathe native, helped found the Kansas City Yo-Yo Club three years ago with the help of the already-established Kansas City Juggling Club. The club now has about 20 or 25 active members from all over the metro area, from Topeka to St. Joseph, Mo.
Freeman has been a yo-yo expert since the age of 12, when he took part in a yo-yo class at a store in Lenexa. He said he took the class because he had been interested in juggling, and within two or three weeks, he had learned all the yo-yo tricks so well that the class's organizers asked him to help teach future classes.
In addition to teaching classes, he started performing in area yo-yo shows and then started competing. He competed in the Kansas State Yo-Yo Championship, winning the state title three years in a row. He also competed in the Missouri and Arkansas state championships and contests officially sanctioned by the National Yo-Yo League.
Now, 15 years after getting his start in yo-yoing, Freeman said league officials asked him to take over the Kansas State Championships. The championships have been held somewhat irregularly in the past as different people took over their organization, and it moved from the Wyandotte County Fairgrounds to Wichita and then to Sedalia.
"The people that got it started fell out of the yo-yo scene since then," Freeman said. "Since I've been involved for 15 solid years, they came to me to see if I would take it over."
So Freeman began scouting out a new, more permanent home for the championships more than a year ago. Then in November, Freeman came to visit some friends on the Duncan Yo-Yo Heritage Tour as they performed at Moon Marble Co. in Bonner Springs. There he met Moon Marble owner Bruce Breslow, who told him about Marble Days.
"Being in conjunction with Marble Days is just perfect for us," Freeman said. "We'd love to get the foot traffic through and attract more people to (the championships)."
Freeman is unsure how many people the championships will bring to Bonner Springs in its first year, but he hopes the crowd will grow as the event becomes established.
"After we get settled and everything, we can expect 75 to 100 competitors coming every year for this event," he said.
This year's event will have a two-time national champion attending to judge the competition, so Freeman hopes his presence will attract more players from the Midwest, and not just Kansas, to compete.
The championships will be a national-level competition with divisions for children and adults. Freeman said the youngest competitor right now is a 5-year-old who recently took 15th place in the Missouri State Championships.
The championships will include four different divisions, from basic to the state championship division. Two champions will be crowned, earning them a seed in the regional contest.
Freeman said some veteran yo-yoers also will be available to teach spectators tricks.
Registration is available at the door the day of competition, but information can be found at ksstateyoyo.com or on the contest's Facebook event page.
Freeman said the championships should remain a part of Marble Days for many years to come.
"We'd like to stay with Bonner Springs as long as they would have us," he said. "They've been very accommodating."