State Sen. Tom Holland updates Basehor Chamber on budget, schools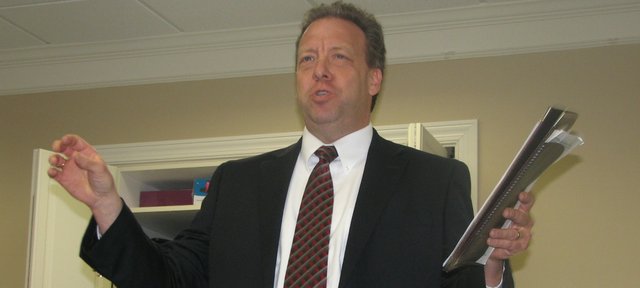 State Sen. Tom Holland touched on issues ranging from school funding to the business "border war" between Kansas and Missouri during Thursday's Basehor Chamber of Commerce meeting, but those discussions largely ended up back on the same topic: the state's budget for 2012, especially the projected revenue reduction of more than $500 million.
Holland, a Democrat from Baldwin City who was his party's nominee in the 2010 gubernatorial election, gave chamber members an update on the current legislative session, during which legislators have been forced to work around that revenue shortfall, most of which is the result of expiring federal stimulus funds.
"We're having to make cuts to programs to try to make ends meet," Holland said.
Among those cuts, he said, will likely be a large reduction in state education funding. And that decrease will likely not end in 2012, he said.
In addition to the cuts already in Gov. Sam Brownback's proposed 2012 budget — which would reduce state aid to the Basehor-Linwood district by a combined $640,000 during this school year and the next — Brownback has suggested that the state may need to make further cuts later on, including another reduction for 2013 that would reduce Basehor-Linwood's funding by another $295,000.
"You're going to see schools take a sustained hit going forward," Holland said.
Holland said he feared the cuts might cause the state to find itself in a situation he compared to the movie "Groundhog Day," in which Bill Murray's character lives through the same day over and over. In the case of Kansas, he said, the state may end up re-living a sequence of events that occurred in the middle of the last decade.
During that time, a judge ruled the state's school funding system unconstitutional, forcing the Legislature to pass a new finance plan increasing funding by $466 million. Those increases will all be rolled back by the proposed cuts, Holland said, and districts may be given a "green light" to make up the funding decrease with local mill levies. That, he said, would create a gulf between richer and poorer districts, which would likely lead to lawsuits and another court ruling.
"You're going to see, very quickly I think, evolve across the state school districts of the haves and the have-nots," Holland said.
Also of budgetary concern, Holland said, were bills in the Legislature that propose tax incentives and cuts in pursuit of economic growth, which he said could further decrease the state's revenue in coming years if passed.
After one chamber member asked about the talk of a "border war" involving Kansas' use of tax incentives to draw businesses from Missouri, Holland said he thought such competition for Kansas City-area businesses was likely to be a back-and-forth affair that benefitted neither state in the long run.
"We'll give incentives to bring those companies over, but they're going to start stealing ours eventually, too," Holland said. "And I think it just is a race to the bottom as far as revenues."
Though the projected budget shortfall has created difficulties, the state budget bill currently in the State Senate would provide increased funding to some areas, he said, including an extra $43 million for nursing home care for the elderly.
For more from Holland's discussion, go to basehorinfo.com to watch videos from the meeting.
KANSAS SAMPLER FESTIVAL LOOKING FOR VOLUNTEERS
Also speaking at the chamber meeting was Keyta Kelly, director of the 2011 Kansas Sampler Festival, who said the festival was in great need of volunteers.
The festival will take place May 7 and 8 at Ray Miller Park in Leavenworth.
This will be the last year the festival takes place in Leavenworth County, Kelly said, before it moves to Liberal in southwest Kansas next year.
"This is your opportunity to come see what it's all about," Kelly said.
She said the festival helped shine a spotlight on Kansas' rural communities and encourage people to visit — and spend money — in those areas.
"It's a chance for communities from all across the state to showcase themselves," Kelly said.
After 8,500 people attended last year's festival in Leavenworth, a record for the festival, organizers are hoping to attract a similar number this year, Kelly said.
Volunteers are needed for a variety of jobs before and during the festival, Kelly said, and volunteers will receive a free one-day pass to the festival for each day of work. Anyone interested in volunteering can call Kelly at (913) 417-7575 or send email to kssamplerfestlvco@sunflower.com.