Bobcats power past Braves, advance to tourney finals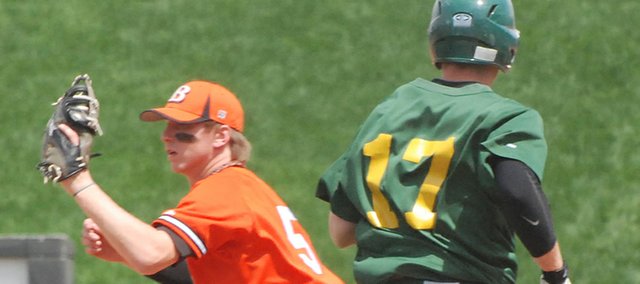 Kansas City, Kan. — Basehor-Linwood slugged 11 hits and pounded its way to a 12-8 victory against rival Bonner Springs Friday afternoon at CommunityAmerica Ballpark.
Photo Gallery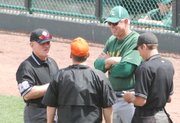 Basehor-Linwood 12, Bonner Springs 8
The victory vaulted the Bobcats into the 7:30 p.m. Saturday championship game of the Butch Foster Memorial Baseball Classic.
Basehor-Linwood's fireworks display began in the bottom of the first inning when Destry Bryan reached on an error and scored moments later on Nathan Quigley's two-run homer that bounced off of the light pole in left field.
BLHS added another run when Tyler Ogden walked and later scored on a wild pitch for a 3-0 Bobcat lead after one inning.
Basehor-Linwood starting pitcher Skylar Barnes kept the Braves' batters off balance for the first three innings as he allowed just one hit during that span.
Bonner Springs tied the game in the top of the fourth. Shawn Jones led off with a single up the middle, Gonzalo Pichardo singled to right field and Sergio Valenzuela reached base on a dropped third strike. Austin Epp followed with a walk that plated Jones and brought BSHS within 3-1. Two batters later, Lucas Porras belted a two-run double to right-center field.
Basehor-Linwood answered promptly in the bottom of the inning. The Bobcats sent 10 batters to the plate and strung together six hits to go with a Bonner Springs error. The result was a six-run inning and a 9-3 lead. Ogden smacked a three-run double and Tanner Garver drove in a run with a triple during the inning.
The Braves went 1-2-3 in the top of the fifth, and then BLHS tacked on three more runs for a 12-3 lead.
Bonner Springs closed the gap a bit in the top of the sixth thanks to a three-run triple by A.J. Gidden that brought the Braves within 12-6.
The Braves continued to rally in the top of the seventh. They loaded the bases with one out, and then Epp drew a walk that brought home Jones who had reached base on an error to start the inning. Then Brian Callahan scored on Logan Terrell's fielder's choice ground ball that pulled BSHS within 12-8 with two outs. Matt Call struck out swinging to end the game.
Quigley led the Bobcats with a 3-for-4 performance at the plate. He came a triple short of hitting for the cycle and had three RBI.
Bonner Springs will face either Holton or Spring Hill at 5 p.m. Saturday in the third-place game. The Holton/Spring Hill winner will meet BLHS in the finals.