Glenwood Ridge kindergartners stage their own wedding, between 'Q' and 'U'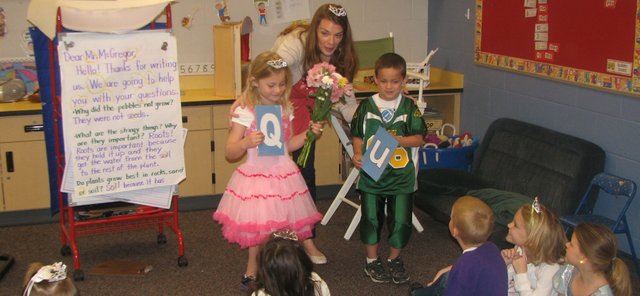 Photo Gallery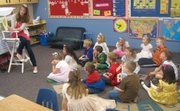 'Q' and 'U' marry at Glenwood Ridge Elementary
To celebrate the union of the letters "Q" and "U," and to coincide with Great Britain's royal wedding held a few hours earlier, Glenwood Ridge Elementary School kindergartners had a wedding ceremony Friday morning.
The bride, dressed in a pink dress and a tiara, walked down the aisle toward the groom, who wore a Basehor-Linwood Bobcats football uniform.
The scene, though markedly different from the one in London watched by hundreds of millions several hours earlier, was the answer to Great Britain's royal wedding from Allison Budimlija's kindergarten class at Glenwood Ridge Elementary School on Friday.
The students held a wedding for the letters "Q" and "U," celebrating the eternal union between the letters in the English language and coinciding with the nuptials that added a new member to the English royal family earlier that day. Chloe Siefkas portrayed Queen "Q," and Tegory Gray was Prince "U," characters borrowed from a book that Budimlija read to the class before the ceremony. Their 15 classmates were in attendance.
A reception followed the short ceremony. The students enjoyed a British tea, with cupcakes and cups of iced tea.
The groom, and other boys in the class, wore a football get-up because they was dressed as quarterbacks, a notable "Q-U" word, for what the GRES kindergarten teachers had dubbed "'QU' Day." The girls dressed as queens.