Marble Days, yo-yo competition coming May 7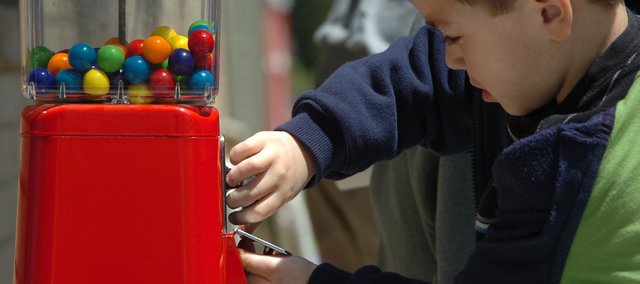 The fifth annual Marble Days celebration will include the regular array of events attendees have come to be familiar with — a "wacky" parade, marble tournament and the Running of the Pinkies — but this year Moon Marble Company owner Bruce Breslow is adding something new to the mix.
For the first time the event will also play host to the 2011 Kansas State Yo-Yo Championships, organized by Blake Freeman who is one of the original founders of the Kansas City Yo-Yo Club. Breslow said he wanted to add this new attraction to try to draw some other people in the area who may find yo-yos more interesting than marbles.
"Well, we've talked about (bringing the championships here before) and we thought it'd be fun to have another venue going on," Breslow said. "You know, not everybody's interested in marbles, so we thought, well, if we had the yo-yo thing going, as well, then it would add more excitement, more interest and bring more people that might be interested in yo-yos more than something else."
The Yo-Yo Championships will be a national-level competition with divisions for children and adults. Freeman said the youngest competitor right now is a 5-year-old who recently took 15th place in the Missouri State Championships.
The championships will include four different divisions, from basic to the state championship division. Two champions will be crowned, earning them a seed in the regional contest.
But Breslow said he doesn't want the yo-yo competition to overshadow the main event, which will kick off with the Wacky Parade. The parade will line up at 9:45 a.m. at the 300 block of Oak Street and the procession will start at 10:00 a.m. The parade ends at Centennial Park. Attendees are invited to decorate their bicycles, wagons or scooters in a "wacky" fashion, or just put on a wacky costume and walk with the parade. The parade will be followed by a stupid pet tricks contest at 10:30 a.m. Anyone owning a pet with a special talent is welcome to participate.
Opening ceremonies will follow the stupid pet tricks contest, and will include the National Anthem being performed by a barbershop quartet.
The marble shooting tournament will begin at 11 a.m. Anyone is welcome to demonstrate their skill at shooting marbles. Cash prizes of $100, $50 and $25 will be awarded to first, second and third place winners, respectively.
Perhaps the biggest attraction of the event will be the Running of the Pinkies, which starts at 1:30 p.m. Five thousand pink rubber balls will be dumped from a front end loader to bounce and roll their way down Oak Street past a series of obstacles to the finish line. Attendees can sponsor a ball for $2 apiece and a portion of the proceeds will go to benefit the Harvesters BackSnack program, Breslow said.
More games and activities will go on throughout the day, and youths will have a chance to demonstrate their creativity by participating in the marble artwork and marble invention competitions. Youths in first through 12th grades can bring their artwork or invention submissions between 8 a.m. and 9 a.m. the morning of the event to have them displayed under the large tent that will be set up in Centennial Park. Cash prizes will be awarded to the top three winners from grades one to six and the top three winners in grades seven to 12.
The Yo-Yo Championships will take place in the Bonner Springs Community Center, 200 E. Third St., and registration is available the day of the event. Though Breslow said he was looking forward to the addition, he said it still remains to be seen whether the yo-yo competition would work as a future inclusion of Marble Days. He said if it turns out the competition pulls focus from the marble activities, he may have to hold the events separately next year.
"This year we'll see how if it competes (against the marble activities going on) or if it doesn't compete," he said. "There's just one way to find out, so we'll try it.
Marble Days will be from 10 a.m. to 3 p.m. in and around Second and Cedar streets in downtown Bonner Springs. More information can be found here.