St. James no-hits Tonganoxie, finishes 5th at Butch Foster Classic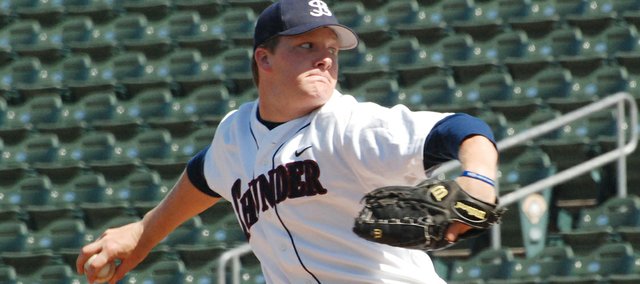 Kansas City, Kan. — One bad inning cost St. James Academy a chance to defend its title at the Butch Foster Memorial Baseball Classic, but the Thunder didn't let the first-round loss dampen their weekend.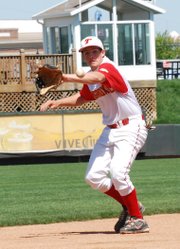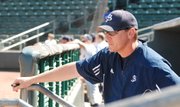 Instead, they came back with a pair of strong performances. They battled past Paola for a 7-5 victory Friday and then won the fifth-place game, 10-0, against Tonganoxie on Saturday at CommunityAmerica Ballpark.
Matt Eckelman threw the first four innings and then Steven Gillespie tossed the fifth as the pair combined for a no-hitter Saturday.
"We kind of challenged them (Friday), we shook up the lineup and said 'Let's see how we respond.' We didn't seem like we were really into the game on Thursday and we said, 'Hey fellas, we've got to come to play every single day.' We got the bats going today and hit some gaps, and we did it consistently."
St. James took a 1-0 lead in the top of the first inning when Adam Burns reached base on a fielder's choice and later scored on Brent Mitchell's single to right field.
That allowed Eckelman to step to the mound with a lead he wouldn't relinquish.
"It's always nice to have a lead and get support from the bats," Eckelman said of the early run support.
Eckelman struck out the first two batters he faced before allowing his only walk of the game. It proved inconsequential as the next batter grounded out.
St. James scored two more times in the second inning. Thomas Maddock earned a leadoff walk and scored when Austin Murrell reached on an error. Murrell then scored on Burns' triple to right field for a 3-0 Thunder lead.
St. James scored two more runs in the fourth inning and tacked on five in the fifth. Gillespie entered in relief in the bottom of the fifth, and the leadoff batter reached base on an error. It didn't matter, however, as the Thunder earned three straight outs to close out the victory.
Mitchell, McCourt and Nick Deichler each had two hits to lead the St. James offense. Jake Wodtke added a triple and two RBI.
St. James (12-5) next plays a doubleheader Friday at Ottawa before closing out the regular season Monday, May 9, at Olathe North.