Basehor-Linwood's Johnson savors Shrine Bowl experience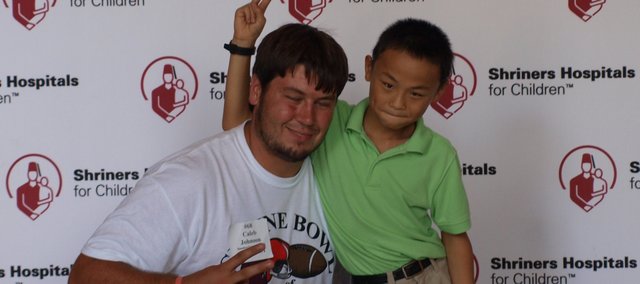 Caleb Johnson and his teammates walked into Shriners Hospital in Salina and met patients being treated for burns, missing limbs or other injuries.
They all were children.
Johnson was part of the Shrine Bowl contingency visiting the hospital, a group of the state's best football players who would spend a week practicing and then play in an all-star game to benefit Shriners Hospitals for Children.
"At each station there was a kid from the hospital teaching us about it," Johnson said. "These kids that we were talking to, some of them have back problems or can't walk. Others, they are missing limbs but they are confident, strong and up to any challenge. That was one of the best experiences about the whole Shrine Bowl game. It was a humbling experience to see what the Shriners are doing and how what they are doing helps the kids so much. It made the game seem like it was a lot more important."
In addition to volunteering activities, proceeds from ticket sales at the game were dedicated to the Shriners Hospital.
While the cause was great, the game didn't go as Johnson had hoped. Johnson competed against the best football players in the state of Kansas on Saturday at Fort Hays State University and held his own for the East team.
"It didn't go as planned," Johnson said. "We ended up losing 30-7. It was kind of rough. Our offense just didn't ever get started."
The score was 8-0 at halftime.
In the third quarter, the West put the game out of reach by scoring three touchdowns.
The East's only touchdown occurred when a linebacker picked up a fumble and rushed in for the touchdown to make the score 28-7.
Later in the fourth quarter, the East was forced to punt the ball deep in its own territory. The ball was snapped over the punters head out of the end zone, resulting in a safety.
While the final score wasn't necessarily what he wanted, Johnson said playing in the game was a phenomenal experience.
"It was a neat experience, getting to know all those guys," he said. "Living with them for a week was a good experience. I really enjoyed it. Most of the guys playing in the game are going to go on to play college football."
Johnson is one of the few players not going to play at the next level. He is still comfortable with his decision.
"Once you get into it, I realize how much I love football," he said. "Playing in college would be great, but I am still fully content and happy with my decision. I know after playing with some of the best college talent in Kansas and I held my own. I feel confident if I wanted to I could play college football."