Linwood girl continues recovery from 2008 stray bullet injury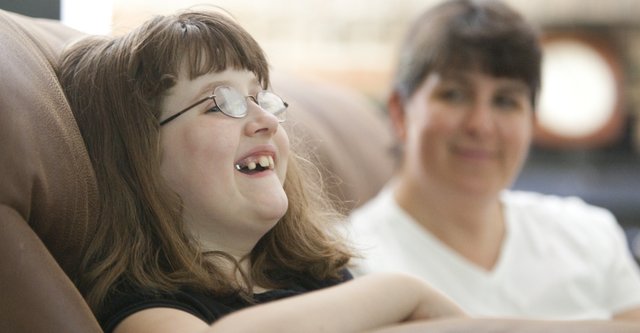 Visitors to 8-year-old Katherine Cook's home in Linwood will find out pretty quickly what's important to the girl.
She loves her little sister, Rachel, 5, and her mom, who's the world's best cook. She's really into sign language, and takes great pains to learn how to sign the names of the people she meets. If you're one of those people, she also wants to know a lot about you.
How many people are in your family? Do you have pets? Do you have a nickname?
Three years ago, though, Katherine's chances of making it to her sixth birthday were slim. She spent weeks in a medically induced coma after being shot in the head by a stray bullet while playing outside her home. The bullet entered Katherine's head just above her left eye, traveled through her brain and ricocheted off the back of her skull, before coming to rest toward the back of her head — where it remains today.
Following the July 4 stray bullet shooting death of Blair Shanahan Lane — an 11-year-old Kansas City, Mo., girl — Katherine's mom, JoAnne, shared her daughter's story to help highlight the consequences of recklessly shooting firearms.
"We were never into retribution," said JoAnne of her daughter's case, which has never resulted in an arrest. "We want it to be a positive story for Katherine."
JoAnne speaks out two years after another stray bullet incident killed 46-year-old Lawrence attorney Deanna Lieber, as she was driving home from the Starlight Theater in Kansas City, Mo., with her daughter.
As the bubbly and sociable Katherine talks about her new kittens, JoAnne said she shares the pain with other families affected by such gun violence.
"I guess we feel a lot the same as any of the families that have been shot by random bullets," she said. "We wish something would change in the way laws were written that protected innocent victims a little differently."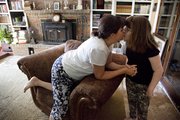 Both Katherine's and Lieber's cases remain unsolved, and accountability for those who pull the trigger in stray bullet shootings is a difficult task for the criminal justice system. In Katherine's case, there are suspects, JoAnne said, but a crucial piece of evidence — the bullet — remains lodged in Katherine's head. Removing the bullet poses too large a medical risk. The Leavenworth County Sheriff's Office did not return calls for comment on Katherine's case.
In Lieber's case, police never publicly identified a suspect, and a spokesman for the Kansas City Police Department said there have been no new developments.
Statistics for stray bullet shootings are not kept nationally, but unsolved stray bullet cases stretch across the country, said Ladd Everitt, director of communications for the Coalition to Stop Gun Violence. Some are the consequence of random gang shootings, while others — like Katherine's case — result from apparently motive-less, reckless firearm usage, he said. Tracking who shot the gun, let alone identifying what gun the bullet came from, is an uphill battle, Everitt said.
Blair's July 4 shooting death remains an exception, as a police investigation identified three people who were shooting a gun near the area. The owner of the gun has since been charged with manslaughter.
Everitt said stray bullet shootings are a symptom of the larger problem of gun violence. More guns on the streets — in the hands of untrained or irresponsible people — creates the environment where stray bullet shootings can occur.
"We live in a society where there is very little screening for buying guns," he said.
JoAnne — who said she is not necessarily an "anti-gun" person — agrees that people need better awareness and training in firearm use.
"Let's be educated about what weapons are capable of," she said. "And be realistic about what happens when a bullet goes somewhere that doesn't get caught by a backdrop."
JoAnne said she doesn't know what the clear answer is, but would favor increasing penalties for people who discharge firearms recklessly.
Arizona adopted "Shannon's Law" in 2000 that makes discharging a firearm — with exceptions — a felony. Legislators in Missouri have discussed adding a similar "Blair's Law" in the city limits of Kansas City. Discharge of a firearm is prohibited by both Kansas statute and Lawrence city code, and both are misdemeanors.
For the past few years, though, JoAnne and her family have focused on Katherine's progress.
Through years of therapy, Katherine has made large strides in improving her daily functioning — and will be entering the second grade this fall at Linwood Elementary School.
But the progress slows down some with time, JoAnne said.
Katherine has very little use of her left arm, which makes many tasks — such as using scissors — difficult. Katherine asks the same questions repeatedly, displaying some of the cognitive and memory deficits that will most likely last a lifetime.
The successes, while much smaller than when Katherine first became able to talk or walk again after the shooting, are celebrated — such as Katherine's ability to understand math and improve her reading skills.
And while personality changes are common in brain injuries, Katherine's has never wavered from the inquisitive, social butterfly who makes everyone at ease, JoAnne said.
Before visitors leave Katherine's home, she'll probably have one last question for them: Can she have a hug?