Basehor's published 2012 budget drops mill levy slightly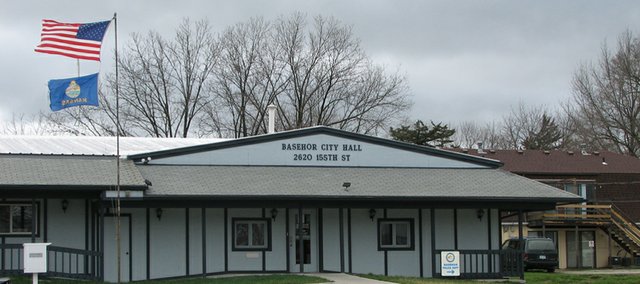 The city of Basehor will publish a proposed 2012 budget with a slight mill levy decrease after the Basehor City Council voted Monday to set a public budget hearing for later this month.
At its work session Monday, the council, by a vote of 4-1, set a public budget hearing for its regular meeting on Aug. 15. Council member Dennis Mertz voted against the motion.
The proposed budget sets the city's mill levy at 29.765 mills, compared with 29.778 mills in the 2011 budget.
The published budget is largely the same as the one initially proposed by city staff last month, city administrator Mark Loughry told the council members. The major change, he said, is that it allows for a decrease in employee benefit contributions and an increase in salaries, a measure proposed by Loughry and Mertz last month.
After the publication of the budget, the council can make funding cuts but cannot add any funding to the proposed budget before its approval, Loughry said.
The roughly $11,000 in savings from the initially proposed budget that will result from the changes to salaries and benefits shows up in an increase in cash carryover for several of the city's funds. That money, which is budgeted to be available for 2012 but not budgeted to be spent, allows for unexpected expenses or revenue shortages, such as lower-than-expected sales or property tax revenues.
"It's kind of like your checkbook," Loughry said. "You try to leave a little bit of money in there at the end of each month so you're not spending every dime, just in case you have to go buy a pair of tires for your car or something like that."
The published budget allows for an unreserved cash balance of $36,321 in the city's general fund for 2012, compared with a balance of about $172,000 projected to be left at the end of 2011.
When Mertz last month first proposed a cut to employee benefit contributions, he said he'd like to use the savings to put more sales tax revenue toward future capital improvement projects, such as a future new city hall. He said he understood using the savings to provide more of a cash cushion for 2012, but he'd still like to contribute more to capital improvements in future years.
"Since it is tight, I don't have a problem with doing that this year," Mertz said.
After the meeting, Mertz noted that the proposed changes to employee benefits should save the city more and more money as years pass. The proposal sets the city's health insurance contributions at a flat rate slightly below what it currently pays, and those contributions will remain the same even as employees' premiums increase in coming years, he said.
Mertz said he voted against the budget hearing because he had concerns about the council taking action at its work sessions, which are generally used for discussion only. Mayor Terry Hill asked city attorney Shannon Marcano to check on the legality of taking votes at work sessions.