Beast Feast closes out big summer at Basehor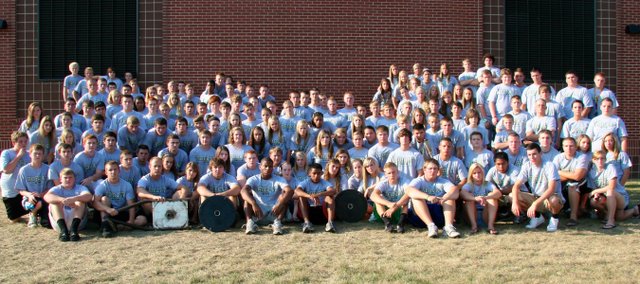 Nearly half of the student body has been working out at Basehor-Linwood High School this summer.
Athletes attended 28 workouts under the direction of coach Ross Schwisow, who said an average of 230 students attended sessions each day.
The culmination of the program occurred Thursday, July 28, when Basehor-Linwood students completed their summer testing.
Beast Feast, a celebration of a summer spent toiling in the weight room and conditioning, took place at 6 p.m. Thursday at BLHS for athletes who attended at least 90 percent of the workout this summer.
Athletes also had to reach established standards for strength and conditioning.
Those athletes were invited to the dinner that was sponsored by the BLHS booster club. They had their picture taken for a poster that will be distributed throughout the city. They also saw a highlight video of the summer, and awards were distributed.
"Our booster club does a tremendous job," Schwisow said. "They provide for and feed us on Thursday. The kids that don't miss a day, we put them on a poster. We do a highlight video. The booster club is really the key to it all happening."
Basehor-Linwood had 182 athletes who attended 90 percent of the workouts. The other athletes attended at least two workouts each week.
"We are really not getting the hit-or-miss kid," Schwisow said. "We are 182 kids that have made 90 percent of the workouts."
Of those numbers, 131 athletes did not miss a day, which is up from last year when 113 athletes attended all the sessions.
The group included freshmen through seniors. With the new strength and conditioning facility open, the freshmen were able to work out together as a separate group, allowing coaches more one-on-one time to work with individual athletes.
In general, Schwisow said the summer is a chance to begin a new chapter in their high school careers.
"It is a reboot," he said. "It doesn't matter how good you are in May, when you come in June you are the same as everyone else. Every school year is a cycle of life. In May they are an expert, but in June it is all learning again. The summer helps everybody to get re-acclimated and sets the foundation for the year. It lets kids see how much better they can be by the end of summer. We treat this as a season. This is one time of year not worry about a game Friday or Tuesday."
In a way, this is Schwisow's season. He works with different varsity coaches who rotate days helping out along with recent alumni who serve as interns during the summer.
"A big thing for summer is we have a coach every day to help me," he said. " We try to have a coach help once or twice in the summer. We also this summer had 16 interns who were graduates and came back to volunteer one day during the week. That helps me manage the numbers and share and get back to what they experience. It is nice because seven want to go into physical therapy, teaching, or athletic training. It is a huge thing to have those kids help. I had six graduates in here helping me test. It means a lot coming from me, but it means a lot from 19- and 20-year-old kids. (They say) 'Listen to him; make sure not to take a week off; here it comes Aug. 15; go win a state title.' The seniors before you, you respect them because they have been successful."
In addition to the workouts, Schwisow and his staff continually worked to test the students mentally.
"We try almost every day to put something in front of them that is different," he said. "We put kids in situations where they are not comfortable. The lifts can be something they have always done, but I change it."
He says this parallels what students will face as they go through life.
"In life, something is going to change and you have to adjust to it," he said. "How do you adjust to the changes we put in? We make things that are tough, we have guidelines that we follow, certain things you're not allowed to do. By the end, we get that down pretty well."
The program goes along with the school's long-term goals. Schwisow's goal is for the school to hang a banner each year. The school won a state basketball championship three years ago and won a softball title two years ago. Last year, they had individual athletes win state championships in track.
The bar for success is rising at BLHS, and a pivotal part of it is the summer weights program. Athletes are lifting each up in the summer workouts.
"The older kids start to see and know that tradition," Schwisow said. "My goal for this school is that we raise a banner every year. As a school, as a community, we expect to be at state championships or to win there."