League, camps have Bobcats poised for fall football season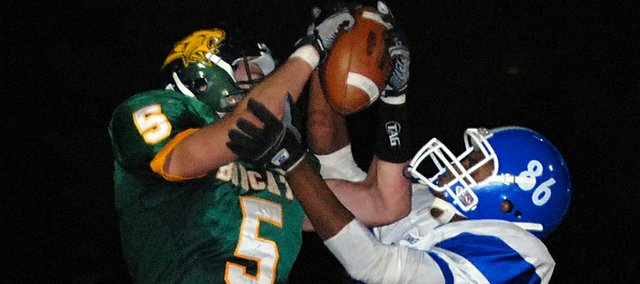 The Major League Baseball All-Star Game has come and gone, and the Kansas City Royals are out of the playoff race, so that — coupled with the end to the NFL lockout — is plenty to get fans thinking about football.
That's certainly the case in Basehor-Linwood, where the Bobcats are counting down the days until the first day of fall practice at 3 p.m. Monday, Aug. 15.
Fresh off of back-to-back nine-win seasons, the Bobcats have spent the summer preparing for a season where they hope to crack the double-digit wins mark and make a serious run in the Class 4A state playoffs.
The Bobcats recently completed their summer conditioning program with strength and conditioning coach Ross Schwisow.
In addition, numerous BLHS players participated in a two-day team camp in June that was sponsored by the University of St. Mary. USM had an issue with its field, so the camp took place at BLHS with 70 Bobcats attending.
During the USM camp, the Bobcats scrimmaged against Bishop Ward and Baldwin, as well as Missouri opponents West Platte and Park Hill South.
The camp format consisted of live competition as well as segments that allowed the team to play offense and defense.
"It is a good experience, particularly on defense where you see every type of offense from the single wing to the power offense," BLHS coach Steve Hopkins said. "It is great experience to play against some of the athletes on those teams. Some of the periods you are playing a quasi game, but that is limited. Most of the time is spent doing periods where they place the ball on the left hash and you run your offense. Then you switch and play defense. We had six schools come, and a few really tested us."
In addition to the team camp, Basehor-Linwood also competed in a 7-on-7 passing league on Mondays. During competition, the Bobcats played three opponents and saw a variety of different offenses.
"You get to see so many different teams and styles, yet touch football is touch football," Hopkins said. "We think it is good for defense and the timing of the offense. Yet, you also see formations that make no sense because it is a passing league. We try to stay in regular formations, but it can give a false sense to the quarterback that he has forever to throw the ball."
BUSY RECRUITING SEASON
Basehor-Linwood will have a lot of interested onlookers this season from the college ranks. Hopkins said he estimates that 10 to 12 players will have an opportunity to play college football at different levels.
"Whether they take that opportunity, who knows at this point," Hopkins said.
Entering the season, Jesse Hiss, Ryan Murphy and Colin Murphy appear to be the school's top recruits.
They have attended numerous camps and are being heavily recruited. Hopkins said the players have not made a decision on where they will sign. He expects them to make their decisions following the end of the season, but that can always change.
"I think they both want to focus on having a great senior year and then a great college decision," he said. "Both want to wait until after they finish, then take official visits in December."
In addition, junior Ben Johnson has attended some camps and is being recruited.
"Ben is going to have a lot of opportunities," Hopkins said. "I told one coach not to forget to look at two or three juniors."
Basehor-Linwood will open the 2011 campaign at Piper High School. The Pirates will have a new coach in Chris Brindle, who served as offensive coordinator the last three seasons. Prior to that, he was the head coach at Pleasanton High School.