Three Basehor-area 4-H sisters will stay busy at Leavenworth County Fair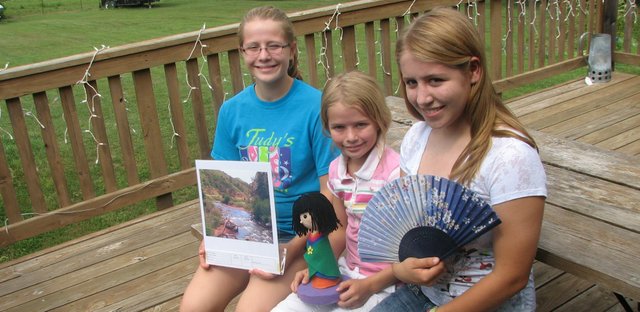 It was a trip to the Leavenworth County Fair seven years ago that sparked Katie Eberth's interest in joining 4-H.
Now Katie, 15, is president of the Basehor Rustlers 4-H club, and 4-H has given her leadership experience, taken her across the world and provided her and her two younger sisters with an activity they could each enjoy in their own way. And the fair is still at the center of it all.
Katie, a sophomore at Basehor-Linwood High School, will be at the county fairgrounds in Tonganoxie nearly all week, along with her sisters, Casey, a 13-year-old eighth-grader at Basehor-Linwood Middle School, and Amy, a 10-year-old fifth-grader at Glenwood Ridge Elementary School. They'll be competing in all kinds of 4-H competitions and volunteering at food stands and elsewhere.
Katie remembered seeing so many kinds of 4-H projects on display — arts, cooking, photography and much more — when she visited the fair years ago, and wanted to give it a try herself.
"I just liked the fact that you could do anything," Katie said.
Katie has participated in 4-H for seven years, while Casey and Amy have been a part of it for three years each. Their mother, Sue Eberth, said 4-H provided a unique opportunity for sisters in high school, middle school and elementary school to all participate in a group together, while the wide variety of projects available allowed them each to experience it differently.
"I really enjoy the fact that, even though they're all three in the same 4-H club, they can explore their own interests," Sue said.
Sue, a substitute teacher, and her husband, Charles, a recently retired Army National Guard member who now works as a civilian contractor at Fort Leavenworth, both were 4-H'ers growing up, and they "gently nudged" their daughters to follow in their footsteps, Sue joked.
Katie said she's sampled just about everything 4-H has to offer. Arts and crafts projects were her first interest, she said, but by two years ago, she was entering 11 different projects at the fair, covering just about every area except for animals.
Two of her bigger projects in recent years have been in the categories of home environment, for which she this year has built her own bedroom, and geospace, for which she and a team of other 4-H'ers have used GPS equipment to tackle real-life mapping projects for the county's geographic information systems department.
For the home environment category, Katie has built herself a bedroom in her family's unfinished basement, putting up drywall, painting, laying carpet and adding furniture. She won the grand champion title in the event at last year's county fair, winning a trip to the state fair.
"It took a lot of work, and I'm glad it paid off," Katie said.
In the geospace area, she has helped the county re-draw its Kansas River boundaries and helped record locations of cattle populations, a useful tool in case of a disease outbreak.
"Just about every part of the county is covered. There's a lot of cattle here," Katie said, laughing.
This is also Katie's first year working on an animal project, in the market steer category.
The animal competitions are old hat for her sister Casey, though. When Casey joined 4-H three years ago, the first thing she wanted to do was raise a cow, she said.
Casey, who is now the secretary for the Basehor Rustlers club, competed in the bucket calf category for two years before taking her first try at a market steer this year. She remembered keeping her first bucket calf in the backyard of the family's home south of Basehor, which confused their neighbors.
"The neighbors came by and said, 'Can we see your dog?' or 'Can we pet your goat?'" Casey said.
The girls now keep their animals, including Amy's first bucket calf that she's raising this year, at the family's nearby farm.
Casey and Amy had to take care of Katie's steer — "willingly and lovingly," Sue joked — during Katie's month-long exchange trip to Japan this summer, another opportunity provided by 4-H.
She said the Japan trip — something her mother also did when she was in 4-H — was the best 4-H experience she'd had, giving her a chance to immerse herself in another culture.
"In my town, cars weren't such a big deal," Katie said. "I bicycled to the grocery store. Life was a lot different."
Her return late last week left just a few days before the fair, and all three girls were scrambling to complete their projects Friday. Katie will enter in the photography competition as well as home environment, geospace and market steer; Casey will do arts and crafts, photography, cooking and market steer; and Amy is planning entries in cooking, arts and crafts and bucket steer.
Amy joked that her favorite part of the fair was "going into the air-conditioned buildings," but she said she also enjoyed arts and crafts and cooking.
The 4-H projects force the girls to work independently, Sue said: Their projects are the results of their efforts, not their parents'. Katie said that independence was perhaps the greatest benefit of 4-H.
"They kind of give you, like, a freedom and the ability to learn," Katie said, "and you can zone in on an area and perfect it."
The projects also help 4-H participants discover new interests and talents, Casey said, and perhaps even future career possibilities. For her, the competitions have helped her discover and develop a talent for photography, she said.
"It helps you find friends, and it helps you find your strong spots," Casey said. "It shows you what's out there and what you can do."