Brownback says state is returning to feds $31.5 million health care reform grant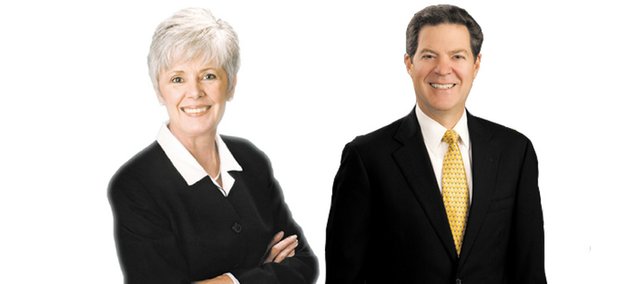 Topeka — Gov. Sam Brownback on Tuesday rejected a $31.5 million grant from the federal government to implement a part of health care reform designed to allow Kansans to get the best insurance coverage possible.
In announcing the decision, Brownback, a Republican, said in a prepared statement, "There is much uncertainty surrounding the ability of the federal government to meet its already budgeted future spending obligations. Every state should be preparing for fewer federal resources, not more. To deal with that reality, Kansas needs to maintain maximum flexibility. That requires freeing Kansas from the strings attached to the Early Innovator Grant."
Asked to elaborate on what federal requirements were attached to the grant, Brownback's office did not respond.
Kansas Insurance Commissioner Sandy Praeger, also a Republican, who was administering the grant from the U.S. Department of Health and Human Services, said there were few strings attached.
"There are conditions with the grant that we were going to have to meet, but HHS has been incredibly flexible," Praeger said.
"It's a missed opportunity," Praeger said of Brownback's decision, "but I understand the politics."
Republicans in Kansas and nationally are calling for repeal of President Barack Obama's signature piece of legislation, the Patient Protection and Affordable Care Act.
At the American Legislative Exchange Council meeting last week in New Orleans, which key Kansas legislators attended, a topic of discussion was on ways legislators could return to their home states and take action to try to stop implementation of the law.
In ALEC's "State Legislators Guide to Repealing ObamaCare" one of the strategies is for states to decline federal grant money that comes with "federal strings."
Brownback, when he was in the U.S. Senate, voted against the legislation, and as governor has supported efforts to challenge it in court. However, he had earlier given his blessing to getting the grant.
On Tuesday, Praeger was brought into a conference call led by Lt. Gov. Jeff Colyer, who said the state was opting out of the grant.
In February, HHS announced the award of seven agreements to states to help design and implement the information technology infrastructure needed to operate health insurance exchanges.
Kansas was one of the seven set to receive $31.5 million. At the time, HHS Secretary Kathleen Sebelius, and former Kansas governor, said, "Early innovator states will play a critical role in developing a consumer-friendly marketplace where insurers must compete to deliver the best deal. These grants ensure that consumers in every state will be able to easily navigate their way through health insurance options."
In April, Oklahoma opted out of its grant. Now Kansas has followed.
Kansas Democrats criticized Brownback's decision.
Democratic Party Chairwoman Joan Wagnon said, "Brownback showed he cared more about kowtowing to the extremists of his own political party than the people of Kansas."
Senate Democratic Leader Anthony Hensley of Topeka said, "Over the years, I've heard conservative legislators consistently complain about unfunded mandates.
"Now, with a funded mandate available, Gov. Brownback has decided to opt out, forcing future funding to come from the state general fund. Kansas taxpayers can't afford to pay for Gov. Brownback's political grandstanding."
House Republicans rallied to Brownback's side.
House Speaker Mike O'Neal, R-Hutchinson, said, "With strings attached, an unknown ultimate price tag and an unworkable timeline, the 'early innovator' grant involves unreasonable risk. The governor made the right decision. We must continue to focus on health solutions that meet the needs of Kansans."
Praeger lamented the loss of the grant. "We really had an opportunity to create a process that really worked well for us," she said. Now, she continued, if the health reform law is upheld, the federal government will probably develop Kansas' exchange. The loss of the grant funds could also impact efforts to improve the state's Medicaid system, she said.
Praeger, a former state senator from Lawrence, said making affordable health care available shouldn't be consumed in partisan politics. "It's about doing the right thing," she said.