Band off to bigger stages after Tiblow Days gig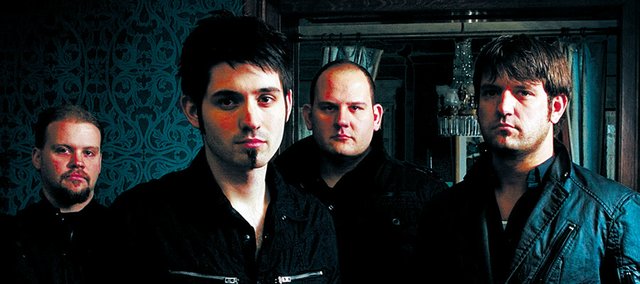 Rock band Montia may be billed as a local act for its performance at this year's Tiblow Days festival, but it isn't likely that status will last much longer for the homegrown band.
Sammy Orangkhadivi, a Bonner Springs High School graduate and one of the band's founding members, said after the local festival, things will be kicking up a notch for the band as it prepares to finish recording a new album with a well-known producer and to join rock festivals next year in Europe.
But before Montia goes on to the national and international stage, those attending the Saturday night concert at Tiblow Days will have the chance to hear the band's progressive, powerful sound for themselves.
"The songs kind of take you somewhere; I think that's kind of what separates our band from other bands," Orangkhadivi said. "A lot of bands have a generic rock sound, and I guess we're trying to do something very unique. No one in the genre of rock is doing what we're doing right now. Our new album is really going to revolutionize what we're doing as far as the rock genre."
Orangkhadivi has been playing guitar since he was 15. After graduating from BSHS in 1996, he went on to get an economics degree from Kansas University in 2003. But music has always been a passion.
"Once I graduated, that's when I really wanted to get serious about doing music," he said.
He said the band members found each other largely through Craigslist and other classified advertising services, first forming in 2005. While some band members have changed through the years, the current lineup has remained the same for the last three years. In addition to Orangkhadivi on guitar, there's Jeriah Eager of Independence, Mo., on vocals and guitar; Lucas Schlup of Overland Park on bass; and Matt Vandeputte of Kansas City, Kan., on drums.
Orangkhadivi said the band members all have a commitment to take the band to the next level.
"You really have to have the perfect cohesion of people to be able to do this, and everybody is on the same page musically," he said. "We're all at the same point in our life; we want to make a commitment to being successful ... Right now, I think we have the perfect lineup. Everybody is on the exact same page."
The band has spent the past several years "paying our dues:" playing shows and learning how to become stage performers and how to be professional musicians, Orangkhadivi said. While the band has solidified, Orangkhadivi has kept busy with other music-related pursuits, including his sound and lighting company and working as a producer for other local bands on the side.
But now momentum is starting to build for Montia. In 2007, the band created its first demo and started playing a more regular concert circuit.
In 2010, Montia released its first full-length, debut album, "Lust and Fire," produced at Black Lodge Studios in Eudora with Ed Rose, who has worked with Kansas City-area bands such as The Get Up Kids.
The album was released on iTunes, where it has collected a following, especially in Europe.
"That was pretty much just word of mouth," Orangkhadivi said. "It's hard for a band starting out with no money to be able to promote, so that's a good testament to the fact that people like the music."
The album also was recognized by website altersite.com, which listed it as No. 3 on its list of the 20 best albums of 2010. Montia toured last summer throughout the Midwest, from Chicago to Denver to Austin, and played its largest show to date as the headliner at the Knoxville Raceway Nationals.
At the end of the year, the band signed a management deal and then was able to record a three-song EP with Michael "Elvis" Baskette — a producer who usually works with bands like Chevelle, Incubus and Alter Bridge.
"He gets over 3,000 submissions a year from up-and-coming artists, and he only works with one or two," Orangkhadivi said. "He gave us some pretty good compliments — he said, 'I only work with bands that I think not only are going to be on a major label, but also can change the genre of rock music.'"
Baskette also agreed to help Montia finish the album, which is currently in preproduction. Montia also is planning a new music video, a photo shoot and joining a European festival circuit next year.
"If we can do that, every festival has on average between 50,000 and 60,000 people," Orangkhadivi said. "So if we can jump on 50 of those shows, that's 2.5 million people we can reach next year."
Tiblow Days may be providing a much smaller stage in comparison, but Orangkhadivi said the band looks forward to playing for the crowd in the town where members currently practice two days a week.
Montia joined Tiblow Days thanks in part to Orangkhadivi's friendship with Paul Bush, current president of the Bonner Springs-Edwardsville Area Chamber of Commerce, and the band thanks the chamber for letting it take part.
"I think it was just kind of the right place at the right time," Orangkhadivi said. "We're honored to be a part of the Tiblow Days show. I grew up going to Tiblow Days … I'm actually able to see my old house from where we'll be playing."
To learn more about Montia and check out the band's music before Tiblow Days, visit reverbnation.com/montia, myspace.com/montiamusic or facebook.com/montiamusic.