Basehor, Bonner Springs girls unite for summer hoops success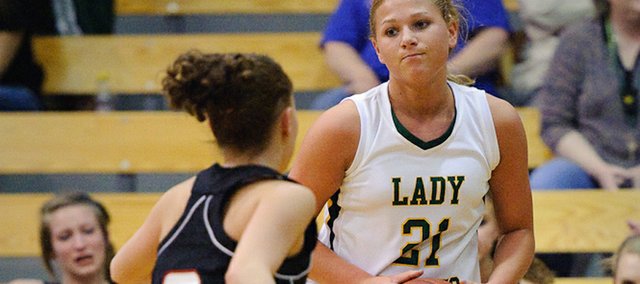 Having players from rival schools come together on the same team isn't a simple task, but that's exactly what girls from the Kaw Valley League accomplished this summer.
Players from Bonner Springs and Basehor-Linwood joined forces on the KC Magic and emerged as consolation bracket champions at the Miss Basketball Showcase Tournament July 14-17 in Kearney, Neb.
"It was super top-flight (competition)," coach Sterling Burgette said. "They gained confidence that they could play with anybody and anywhere. They got some leadership skills going that will help them lead their school teams. (We're) getting girls to buy in and believe in what they're doing."
Bonner Springs players Haley Hoffine, Yessenia Hernandez and twins Erica Wilson and Emily Wilson, along with Basehor-Linwood's Jamie Johnson, were among teammates on the Magic.
"It just been a great group to work with," Burgette said. "They've been cooperative, supportive and accountable. They've shown up to everything we did and did everything we asked of them."
The Magic had a slow start to the tournament dropping, their first two games in pool play but battled back in the consolation bracket. There, they won five consecutive games, including the final against the Nebraska Red Force, 47-35.
"We gave a game away, and after that game we took a really tough hit," Burgette said. "We went out of pool play and went into the consolation really, really well."
Burgette said the competition was stiff, especially for a team composed of players from Class 4A schools.
"It speaks volumes," he said. "Even though it's a small conference, for the girls to play in that environment and then go play against the kids from the other schools (is impressive)."
Hernandez led the way for the Magic. She garnered Miss Basketball Showcase All-American accolades to go along with her team-leading 10.4 points per game.
"Just her leadership on the floor (stood out) … her ability to make shots, stabilize the team," Burgette said. "Whenever things got rough, her leadership skills came through. She's grown leaps and bounds from a year ago.
"She's really confident about herself and is just a great kid. She's on the floor a lot, she takes some bumps from the opponent because they put a lot of pressure on her, and she withstands it all."
Hoffine averaged 6.8 points per game during the tournament and Johnson chipped in 6.5.
"They really stabilized and kept us afloat," Burgette said.

The Wilson twins also contributed to the cause with Emily averaging 3.9 points and Erica 2.9 points.
It's been a successful summer for the KC Magic, and Burgette credits a lot of it to the girls' willingness to work together even though they are opponents during the school year.
"It's a unique deal," he said. "I attribute that first and foremost to the environments they come from, with their parents."
As the summer comes to an end, the girls hope they can take what they've learned this summer to their respective school teams in the winter.
"(I want) to let them know that they can play and keep improving and to understand that hard work will pay off," Burgette said.