Basehor district achieves
AYP

; Bonner falls short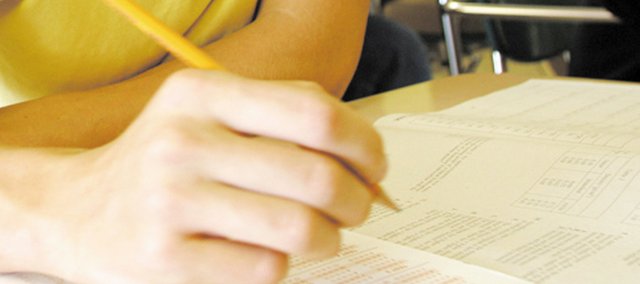 A report this week from Topeka about Kansas schools achieving academic barometers brought mostly good news for area educators.
All schools in the Basehor-Linwood USD 458 and a majority of schools in Bonner Springs-Edwardsville USD 204 have hit their math and reading targets, but Clark Middle School and the Bonner Springs district as a whole fell short, according to results released this week by the Kansas State Department of Education.
The KSDE released lists of schools and districts not making adequate yearly progress for the 2010-2011 school year. Clark Middle School is one of 213 schools listed and USD 204 is one of 77 of the listed districts failing to meet AYP standards in math and reading set forth by the state.
The federal No Child Left Behind Act requires states to determine whether schools and districts are making adequate yearly progress to get 100 percent of students proficient in reading and math by 2014.
But that's an unrealistic goal to set, says USD 204 Superintendent Robert VanMaren in response to the results.
"I think it's a little naïve to think that 100 percent of kids are going to be proficient in reading and math," he said, noting he believes there are problems with a federal mandate that doesn't take into account the varying abilities of students, especially those with special needs.
Each year the target students must hit increases.
This year the targets for reading were to have 87.8 percent of kindergarten through eighth-grade students and 86.0 percent of ninth-grade through 12th-grade students meeting AYP. The targets for math were 86.7 percent and 82.3 percent, respectively.
VanMaren said it's always harder to get middle schools to make AYP as students in those grades must test every year, as opposed to high school when students have more freedom to test when they are prepared and even retake tests to achieve higher scores.
He said one reason the Bonner Springs-Edwardsville district may not have made overall AYP is because of the high number of special education students: more than 360 last school year. The higher the number of special needs learners, the greater the challenge to make overall AYP, he said, since according to federal standards, only students totaling 3 percent of the entire population can take alternate or modified tests appropriate for special education learners.
Leticia Porter, director of elementary education for the district, says only 35 of the district's special education students could take the Kansas Assessment of Modified Measures test in reading last school year and only 24 could take the alternate test. Only 26 students could take the KAMM test in math and only 25 could take the alternate test. The rest must take the normal standardized test, whether they fully comprehend the material or not.
VanMaren said the elimination process is made prior to test time, when the district does preliminary testing to identify who among the special education students has the most need to take the alternate or modified tests.
Despite falling short of the bar set in the 2009-2010 school year, when all five schools and the district as a whole made AYP, VanMaren said he was "pleased with the efforts" shown by both students and teachers in the district every year.
"We (made AYP) last year. We didn't make it in some areas the year before," VanMaren said. "Every year's a different year."
To try to again reach the glowing report card seen in 2009-2010, VanMaren said the district would continue to build on the Kansas Multi-Tier System of Supports that was implemented in all the schools in USD 204 last school year. The MTSS is a method by which schools address the areas students need the most instruction and support in and then provide them with that support.
Basehor-Linwood Superintendent David Howard credited parents, staff and the whole community for helping the district meet the standard for 2010-2011 after it fell short the previous year.
"We made improvements over last year, and we're extremely happy with our results and what teachers and administrators have done with our students," Howard said.
The KSDE school building report card, listing AYP scores achieved by schools and districts, won't be released until October.
Basehor Sentinel reporter Matt Erickson contributed to this story.