Basehor-Linwood administrators propose procedures for dealing with tragedies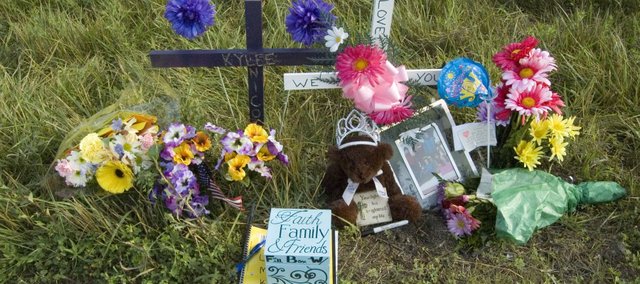 After two nearby school districts faced student deaths this summer, Basehor-Linwood school administrators want to organize some plans and guidelines in case tragedy strikes.
Superintendent David Howard on Monday showed school board members a draft of a new district policy regarding Basehor-Linwood schools' involvement with memorials and memorial services. The plans would discourage the use of any school buildings for funeral or memorial services and set limits on memorial items that could be displayed at schools.
Howard said the goal in establishing memorial policies is to make decisions on those issues ahead of time rather than after a tragedy has just happened, when emotions may run high.
"When you start making those decisions in an emotional environment," Howard said, "you're setting precedents for really years to come."
One decision Howard said he especially would like to avoid is whether to allow a funeral or memorial service to take place in a school gym or auditorium — a question he said the district had received before. He said research suggested that holding such ceremonies in school buildings could have a psychological effect on students.
In rural areas of Kansas, Howard said, funerals that take place in school buildings are more common because communities may lack other facilities large enough. But near Basehor and Linwood, he said, there are churches, funeral homes and other buildings that are better locations.
"I feel pretty strongly that we have facilities for those to take place in," Howard said. "I wouldn't want to get into using our facilities for funerals."
Howard said after the meeting that the policy was not meant to address more impromptu gatherings that might happen, such as a vigil that took place outside Tonganoxie High School in July after the death of student Kylee Wilson.
"Those things that are spur-of-the-moment are obviously really beyond our control," Howard said.
The policy would also designate the Basehor-Linwood Education Foundation, which awards scholarships and grants, as the beneficiary of any memorial gifts to the school district, and it would discourage the installation of memorial items on school grounds. Memorials listed as "inappropriate" include plaques and pictures, pages in yearbooks or the student newspaper, other permanent items or trees or plants.
Howard said the purpose of those rules would be to avoid tricky decisions regarding how particular students or staff members should be memorialized, as well as questions surrounding who would own or be responsible for repair of memorial items.
"Talking with administrators, there are things that we don't feel are appropriate," Howard said, "because we feel it potentially puts us in kind of a precarious situation depending on circumstances that may surround a student or staff member's death."
Under the policy, the district would display a flower bouquet at each Basehor-Linwood High School graduation ceremony "in memory of all deceased classmates who were a part of this graduating class."
The policy also would prevent the district from shortening school days or dismissing school for a memorial service.
Howard said administrators had decided to craft a policy in light of tragedies that had recently occurred in the area. Wilson, a 16-year-old THS student, died in a car accident in Basehor in July, and 16-year-old McLouth High School student Justin Johnston died while on a school trip to Costa Rica in June.
The school board will likely discuss the proposed policy at its September meeting, and a vote would occur at a later meeting, Howard said.
Also at Monday's school board meeting, the board:
• Approved, 7-0, the district's 2011-2012 budget.
• Approved, 7-0, revisions to the district's policy regarding paid holidays.
• Approved, 7-0, a revised Leavenworth County Special Education Cooperative agreement.
• Approved, 7-0, the appointments of Ashley Razak, communications coordinator, and Steve Massing, Tammy Bay, Ashley Ware, Beverly Satesel and Margie Saultz, food service workers; and the resignation of Diana McWilliams, food service worker.