LIVE

BLOG

: Farm Aid 2011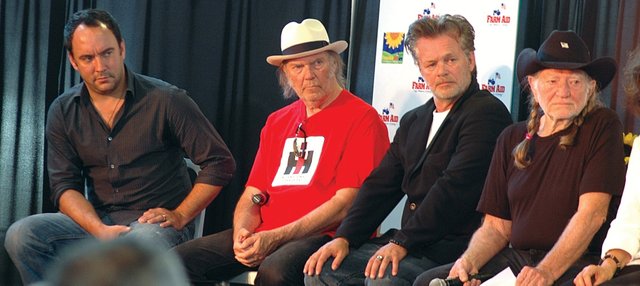 11:04 p.m.
Awww, Neil Young. Love him. He performed a lovely acoustic set that also included lots of commentary on supporting small farmers. He encouraged everyone in the audience to buy at least one local item the next time they go grocery shopping. And by the audience's loud reaction, I'm pretty most members were on board with his idea.
Willie Nelson is onstage now and has got everyone in this place clapping to a song about none other than the grand city of Kansas City.
I've got lots more photos to share with you, but probably not tonight, as I have been here 12 hours. I will try to get some more up tomorrow, as well as the one video I was able to grab — the only place we were allowed to take video was from the press box, which, with my small Flipcam, did not lend itself to the best video ops.
5:45 p.m.
Just caught Jakob Dylan doing his Wallflowers, radio overplayed "6th Avenue Heartache," which had the crowd, and even one or two of the photographers in the photo pit, going crazy.
He's still onstage now and just started into another Wallflowers hit, "One Headlight." I'm not too familiar with Jakob Dylan's repertoire of work, but from the selection of songs he's chosen to play today, am wondering if he's put out any albums more recent than the late 90's. Maybe you readers can let me know.
Also, allegedly Meg Ryan is on the premises, according to the elevator attendant who said Ryan had taken an elevator ride earlier today. Makes me wonder what other famous faces might be here today. If I run into any, I will let you know.
Keep checking in! We've still got a long way to go. Headliners take the stage shortly after 7 p.m., beginning with Dave Matthews and Tim Reynolds. Then, the order is John Mellencamp, Neil Young and last, but far from least, Willie Nelson.
3:33 p.m.
About to upload some photos, but thought I'd check in.
So far I've been most impressed by a riveting acoustic set by Robert Francis — just him and his guitar, but that was quite enough. He. was. awesome. I can't think of any musician to compare him to just yet, but when I do, I will let you know.
Right now it looks like Billy Joe Shaver has taken the stage. He's a cliche country musician if I've ever seen one complete with white cowboy hat, denim button-up, cowboy hats and twang like I've never heard before. If you weren't convinced, he just shouted, "Yee-haw!" Oh, jeez.
Next up will be Will Dailey & The Rivals and I may stay out of the photo pit until tonight's headliners take the stage. It's a micromanaged mess down there and I literally almost got sat on by another photographer, so I think I will need time to mentally prepare myself.
I'm going to check out the HOMEGROWN Village, which is an area where farmers and green enthusiasts have booths set up. I'll have photos for you from there up as soon as I can get an escort to take me there and back. Did I mention the word micromanage?
Also, I'm realizing I forgot to hyperlink the site with the Farm Aid setlist earlier, so it's included now and you can just click on the word "here" down below (it'll be in blue) and find the schedule.
1:33 p.m.
After an-hour long press conference and about that same length of time to find the press room and get settled, we are officially live from Farm Aid 2011 at LIVESTRONG Sporting Park in Kansas City, Kan.
I will tell you right now, nobody is handing out a set list — the press organizers tells me that is something they don't do as it is subject to change — but if you go online here, there is a tentative schedule. Although, I can't confirm at this point how accurate it is, and since I am not familiar with many of the nonheadlining acts, I'm not sure how updated I will be able to keep everyone.

But, despite my mounting frustration at how completely and utterly disorganized the behind-the-scenes are at this concert, we are carrying on here. From the press box, I can see the stands beginning to fill up for some of the opening acts, which thus far have included (I believe) the Blackwood Quartet and John Trudell. According to the online set list I found, Hearts of Darkness, from Kansas City, is supposed to go on next.
Things got kicked off with the morning's press conference, during which Willie Nelson officially became connected forever to the Ag Hall through his induction into the Ag Hall of Fame. Lots of comments were made from agro-business officials and today's headliners Dave Matthews, Neil Young, John Mellencamp and, of course, Nelson. Naturally, the theme of the conference was how to save the family farm, with Young saying the simple solution was for everyone to "just stay together and keep it pure if we can."
I also found it amusing how much anti-political and two-party sentiment was going around, with Mellencamp commenting on the frustration and lack of progress that comes from the parties not getting along and working toward compromises.
"These ... politicians better do something," he said. The ellipses, by the way, I use in place of a cuss word, beginning with the letter 'f,' Mellencamp used to express himself which I can't reprint in this blog. But I'm sure you get the drift.

I'll get some photos up soon and try to keep everyone as updated as possible throughout the day. Right now, all I can hope is that I don't get lost in the maze that is LIVESTRONG Sporting Park.