Basehor City Council narrowly approves raises, benefit cuts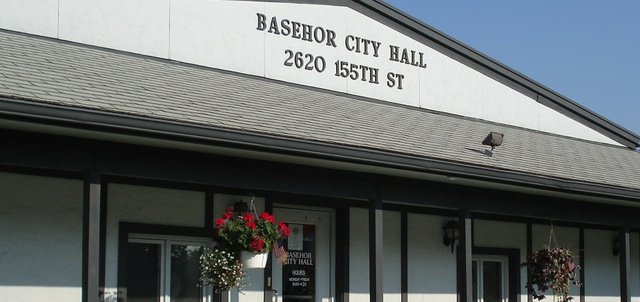 The Basehor City Council ended weeks' worth of wrangling over city employees' wages and benefits Monday, passing a 3 percent salary increase for non-police employees and cuts to health and retirement benefits that nearly offset each other.
The salary increase and the benefit cuts were both passed by split votes. An employee pay matrix with a 3 percent adjustment was passed by a 3-2 vote, with members Iris Dysart and Dennis Mertz voting against; a resolution lowering benefit contributions also passed, 3-2, with David Breuer and Travis Miles voting against.
The council approved the 3 percent pay matrix increase despite the suggestion of a just a 2 percent increase from city staff — part of a proposal made last month by city administrator Mark Loughry and Mertz.
Mayor Terry Hill said after the meeting that he had pushed council members to approve the larger pay increase because the plan proposed last month would have effectively cut employees' pay, with decreases in benefit contributions outweighing the salary adjustment.
"I was interested in not reducing the size of the pie," Hill said.
The total effect of the two moves, city clerk Corey Swisher said Wednesday, would be about a $6,000 savings for the city on personnel costs.
Council member Fred Box — the only member to vote for both the salary increase and the benefits cuts — said he did not want the city's lesser-paid employees to face a pay cut.
"I am not going to vote to punish any employee that's standing out there holding a shovel and not give them a raise," Box said.
Hill said the salary increase was meant to help the city attract and keep quality employees. Basehor must compete with other cities throughout the Kansas City area for municipal employees, he said.
"We're not competing with Podunk, Kansas, for our employees," Hill said.
Dysart, who had earlier said she opposed any salary increase at all, said employees had already received a number of raises in recent years, and the city's resources did not compare to larger area cities with more commercial revenue. She said a 3 percent salary increase amounted to an insult toward several residents who spoke earlier in the meeting opposing even a 2 percent increase.
"I think you're doing an injustice to the citizens of this community, giving the raises to these employees in this little town," Dysart said.
Breuer replied that the increase would not affect residents' taxes, as the city's mill levy for 2012 would remain the same, slightly lower than the 2011 levy.
Mertz said he voted against the salary increase because he and Loughry had already agreed to propose a 2 percent adjustment last month, along with the benefit contribution cuts that passed Monday. Those cuts reduce current employees' retirement fund contributions to 11 percent of their wages from the current level of about 14.6 percent and set the city's health-insurance contribution at a flat rate equivalent to the current cost of a middle-tier insurance plan.
Breuer said he objected to the health insurance cuts and the extra costs they would incur for employees. Employees who keep their current health plans would face an additional cost of roughly $20 per month for an individual or $30 per month for a family, and employees who switch to a lower-tier plan will face higher deductibles.
"It's going to cost them more money in the long run, no matter what it is," Breuer said. "We are cutting their pay."
Earlier in the meeting, the council approved the city's published 2012 budget, 5-0, after a public hearing. The budget sets the city's mill levy at 29.765 mills, compared with 29.778 mills in the 2011 budget.
Also Monday, the council:
• Tabled, 3-2, a request from Leavenworth County Commissioner John Flower to allow residents of Sewer District No. 3 to pay an in-city connection fee to hook up to the city's sewer system, rather than the out-of-city fee. Hill said the request needed to wait until the council's work session and full meeting in September, so that city staff can ensure that any action would not violate an interlocal agreement between the city and other governmental bodies.
• Approved, 3-2, Ordinance No. 601, which accompanies the 3 percent salary increase and records the new salaries for the city's full-time salaried officers.
• Approved, 5-0, a memorandum of understanding between the city and the Mid-America Regional Council, allowing the city to participate in MARC's Smart Lights for Smart Cities. Through the federally funded program, MARC will supply the city with new energy-efficient streetlights.
• Tabled, 5-0, two agreements with Basehor PRIDE regarding PRIDE's planned community garden. PRIDE requested the delay so its attorneys could examine the agreements first.
• Approved, 5-0, the Standard Traffic Ordinance and Uniform Public Offense Code for 2011, allowing the city to begin enforcing all new state laws that became effective in July.