Basehor-Linwood's first
SRO

knows kids — he has 5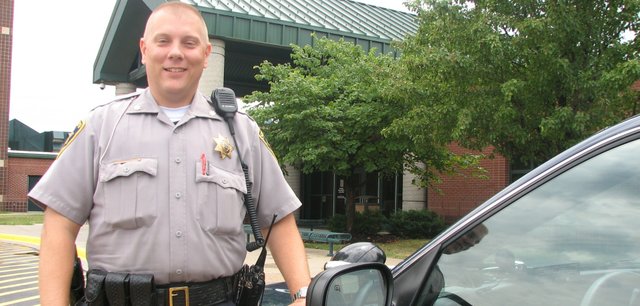 Brent Ogborn has a simple goal: He wants kids to want to come to school.
And as the Basehor-Linwood school district's first school resource officer, he says he can help make that happen.
"There's so many kids, including myself when I was growing up, that don't like to come to school," Ogborn said. "And they need to be able to feel the want to go to school."
Ogborn, who was picked for the SRO job by the Leavenworth County Sheriff's Office, will start on the job Friday, the first day of school for Basehor-Linwood elementary students as well as sixth- and ninth-graders. And at that point, the deputy's duties will switch from patrol to full-time devotion to the district's children.
"I'm here for the school and here for the kids," Ogborn said. "I'll be here before school starts, and I'll be here after school's over."
Ogborn has spent more than 15 years in law enforcement, including four years as a sheriff's deputy. That experience was likely a reason he was picked for the job, he said.
"I'm not 20 years old. I'm pushing 40," Ogborn said. "I've been around the block a little bit."
Another factor in his selection, he said, may have been that he has five kids of his own, ranging from 2 to 15 years old. He'll be interacting with children of all ages in the SRO position, as well. He'll spend much of his time at Basehor-Linwood High School, but he'll move throughout the district's schools, he said.
With his experience talking to children ranging from toddlers to teenagers, he said he's confident he can help the district's students realize he's there as a resource to them.
"Kids, they just want somebody to talk to, and realize that somebody cares," Ogborn said.
After he accepted the offer from the Sheriff's Office to become Basehor-Linwood's SRO, Ogborn spent much of his time this summer training with the SRO in the Tonganoxie district, who is beginning his fourth year there. There is no academy for SROs, he said, and he'll be learning on the job early on as much as students learn from him.
"It's been a little nerve-wracking, because I don't know completely what to expect," Ogborn said.
Though he'll be tasked with handling situations such as thefts, fights and bullying, he said he considered his chief role to be someone for students to talk to if they're having problems.
"I don't want them to see me as one of the guys on 'Cops,' you know," Ogborn said.
He won't be kicking down any doors, he said. He won't be watching students' every move to see if they see if they do something wrong.
Sherry Reeves, principal at Basehor-Linwood High School, said she hoped that interacting with Ogborn could help some students change their views of law enforcement officers.
"I think it's a great opportunity for our students to be able to look at a police officer as a positive role model," Reeves said.
Ogborn said he does not want to be a harsh figure in students' lives. It was a harsh figure in his childhood, he said, who drove him to pursue a law enforcement career in the first place. His father was a strict and stern Army Green Beret.
His father's gruff, strict manner caused him to fear the military, he said, but he still wanted to make his father proud. So he picked what he saw as "the next-best thing" for that purpose: law enforcement.
"I tried law enforcement, in my opinion, in an attempt to gain a little bit of, I guess, pride from my father," Ogborn said. "Just to say, 'You know what? I'm proud of you.' "
For students at Basehor-Linwood schools, he said he hopes to be a trusted resource and a positive influence.
"Hopefully, we'll have more kids not only want to go to school, but enjoy their time while they're at school," Ogborn said.