Bill Dixon Wilderness Running Camp inspires
BLHS

 cross country squad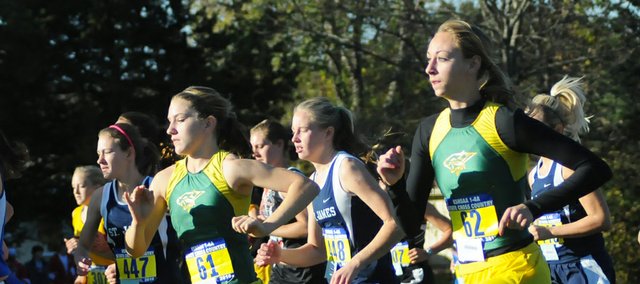 Basehor-Linwood High School cross country runners took preseason preparation to another level this summer.
A group of 15 Bobcats attended the Joe Bill Dixon Wilderness Running Camp in Missouri. The camp is attended by top runners from elite teams to prepare for the upcoming season.
BLHS coach Jeff Venema said it was nice to see the runners show such dedication to the sport.
"I am very proud of kids that made such a strong commitment to cross country," Venema said. "I am told that things went very well. We had a parent, Howard Laney, who gave up personal vacation time to supervise our kids. It's amazing and great to have parents who will go to such lengths to support the program."
Howard's daughter, Ally Laney, attended the camp. She is entering her sophomore year at BLHS and is expected to be one of the team's top runners again this season.
In addition to the drills and activities, Venema said the camp was a good team building activity.
"Some people think that cross country is an individual sport, and they couldn't be more wrong," he said. "Camps like the one they attended give kids a chance to form bonds with one another, and sometimes it's those bonds that push runners just a little faster — they don't want to let their teammates down."
This is the second year the Bobcats have attended the camp.
"The camp is a place where extremely successful programs from nearby states attend, and I did some research on the Internet and spoke to a coach familiar with it," Venema said. "We also attended last summer, and the kids reported back that it was hard work and a lot of fun, which sounds a lot like cross country in general to me. So we returned this summer."
Venema said he hopes the camp will lead to success in the season.
"There are no promises of carryover, but it bodes well," he said.
Basehor-Linwood began the season Monday evening.
Venema said he is excited to see how this year's team will continue to improve.
"We graduated a wonderful group of seniors last year," he said. "It will be interesting to watch this team take shape and become whatever it is destined to become."
Venema is excited to get the year started and see how a girls squad that returns three runners with state meet experience in Laney, Oliva and Hannah Tush progresses.
"It's a privilege to hang around cross country kids, so I'm always eager for that," he said. "Jonathan Oliva was the first Bobcat boy since 1982 to make state, and I believe he's ready to have a terrific senior year. We've had a grand total of 10 kids make state in the history of the school, and three of them return this season. 
"Hannah Tush has made state twice and will be a critical factor for this year's team, and Ally Laney, who made state as a freshman, has worked extremely hard this summer and hopefully can benefit from that and have a memorable season.  I'm very lucky to be able to work with so many dedicated athletes."