Farm Aid's message reaches 18,000 at
LIVESTRONG

Sporting Park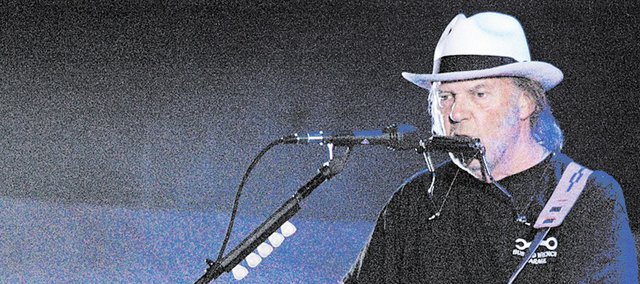 Farm Aid 2011 officials are singing the praises of LIVESTRONG Sporting Park after its debut as a concert venue this past weekend.
Photo Gallery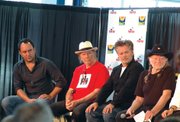 Farm Aid 2011
Farm Aid 2011 was Saturday, Aug. 13, at LIVESTRONG Sporting Park in Kansas City, Kan.
"It was great. Our artists were really excited; they thought it was a beautiful venue," Farm Aid spokesperson Jennifer Fahy said. "I think both the artists and the audience were really happy with the results."
The all-day Farm Aid 2011 took place Saturday, Aug. 13, at the new home of the Sporting KC soccer club. It also marked the first time Farm Aid was staged in the state of Kansas. And while Farm Aid started by musician Willie Nelson 26 years ago to aid small, family farms, that message of support still rang out loud and clear throughout the day.
The festival kicked off with a morning news conference that included comments from the festival's four headliners, who also serve as Farm Aid board members, Dave Matthews, Neil Young, John Mellencamp and Nelson. During the conference, the artists pounded away at how to support small farmers in the face of large, corporate farms getting the upper hand from the federal government and a two-party political system in which disagreements and lack of compromise delay progress for the backbone of the agricultural community.
Young said survival would come from getting more young people, or what he referred to as "new blood," to consider farming as a viable career. He also emphasized the importance of farmers and farm advocates working together.
"Let's just stay together and keep it pure if we can," he said.
Mellencamp said self-reliance also was a key component to small farmers staying afloat.
"Politicians are not the people to turn to, we have to turn to ourselves," he said.
The music kicked off at about 1 p.m., with performances throughout the not overly-hot day including Hearts of Darkness, Rebecca Pidgeon, Robert Francis, Lukas Nelson, who is Willie Nelson's son, Jakob Dylan and Jason Mraz.
Highlights of the day didn't just come by way of the musical entertainment, though. The HOMEGROWN Village, bringing together local and national growers and farm-advocacy organizations, was a tremendous success, Fahy said. In the village, where several of the organizations offered interactive demonstrations, attendees learned about topsoil loss and erosion, what actually goes on in a slaughter house and what kinds of foods are being grown by Kansas City's own urban farmers. Also available were canning and jam-making demonstrations and a farmer's market that featured such items as honey, blackberries, peaches and roasted corn.

Fahy said she's also gotten a lot of positive feedback to the HOMEGROWN concessions stands. Farm Aid organizers only choose to stage their festival at venues that give them allowance to outsource all the concession food items from local family farm sources, she said. So at this year's Farm Aid, attendees were treated to hamburgers made from Kansas beef, bratwurst made from Missouri pork and even organic corndogs and funnel cakes. All the bread, from the hotdog buns to the hamburger buns, Fahy added, also was provided by Kansas bakeries.
Fahy said the concessions provision is written into all of Farm Aid's contracts. For the most part, she said, every year the concert is organized in a different state since it is Nelson's desire to spread the Farm Aid message to as many people as possible. But Fahy said it can be difficult to find a venue that is open to such an agreement and it also makes for a lot of additional work for organizers.
In the end, though, she said it's worth it; it gives Farm Aid just one more way to practice what it preaches.
"It sure is (a lot of work), but that's what this concert is all about. It's about spreading awareness and getting people involved," Fahy said. "… (Attendees) really take (Farm Aid's message) all in and literally take it in by eating it and it transforms people and gets them involved in this food movement, and that's why we do it."
Organizers took the idea of a food movement even further by offering a food drive throughout the day, with all proceeds going to Harvesters Community Food Network, as well as Joplin tornado victims. All told, Fahy said attendees dropped off a total of 6,832 pounds of food items.
The crowd was small in the beginning hours of the day but steadily grew larger. By the time the headliners took the stage a little after 7 p.m., beginning with Dave Matthews, LIVESTRONG was packed with attendees, many sitting on chairs on the covered soccer pitch but most sitting in the stands. In all, Fahy said about 18,000 tickets were sold for the concert.
In between songs, several of the performers made free to talk to the audience about the importance of supporting small farmers, with Young even encouraging audience members to pick out at least one locally grown item the next time they do their grocery shopping.
When it comes to aiding small farmers, Fahy said, it's the little steps that count.

"We don't have to make a huge lifestyle change, but (we can) start small and go from there. We can have a tremendous impact," she said. "That money (spent on locally grown items) circulates in our local community and enriches us all. There's financial implications, there's community implications, but there's also joy and good taste and that's what Farm Aid's really about."