Old, new friends highlight 1st day back at school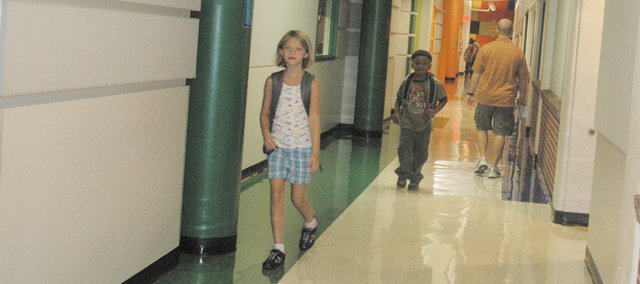 Forget schoolwork.
Seeing old friends and meeting new ones was top on students' minds Tuesday morning as they lined up outside Bonner Springs Elementary on the first day of the new school year.
Asked what he was looking forward to most, fourth-grader Damian Streit said, "Just to … get back to school and see our friends and learn about new stuff."
Added his friend, fourth-grader Ethan Byers, "I want to go back and see my friends."
Whether she would make new friends had first-grader Alondra Villeneada "kind of nervous," as she said. But fifth-grader Natalie Klotz was outwardly confident and said she was ready to get the show on the road for her last year in elementary school.
"I don't know, just being here again with all my friends," Natalie said of why she was excited to be back at school.
As students began entering the front doors and making their way to their new classrooms — most of the younger ones with the help of their parents — the excitement that usually accompanies the first day of school was palpable.
Principal Kim Mitchell said she could feel it in the air, and not just emanating from her students. She said some of the teachers had been at school the entire day before and well into the evening hours, getting classrooms and lesson plans ready for their new students.
Gretchen Peirsol, who is teaching second grade for the first time this year, said she was feeling a mixed bag of emotions.

"I'm nervous and excited," said Peirsol, who taught first grade last year. "I have the same kids I had last year, so that makes me a little more comfortable knowing my kids."
Students at BSE began their day by getting a few moments to sit on the floor in the main area of their pods and watch some educational programming. Then Mitchell made some announcements over the loud speaker, welcoming the students, telling parents it was time to give one last hug and say goodbye and asking the students to stand and repeat after her the school pledge.

She also noted the day's lunch would consist of hot pizza, which she said was a "nice way to get us started."
Mitchell said she had lofty goals for this school year.
"Our expectations for this year are to have just the best absolute school year we can have and that all of our students will be successful and be happy and learn and grow, and that our families will feel a part of our school community," she said.
All schools in USD 204 — Bonner Springs Elementary, Edwardsville Elementary, Delaware Ridge Elementary, Clark Middle School and Bonner Springs High School — began the school year on Tuesday.